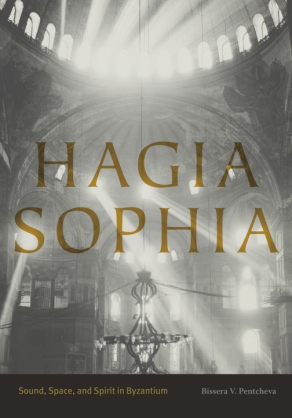 Hagia Sophia
Sound, Space, and Spirit in Byzantium
Bissera V. Pentcheva
BUY
Hagia Sophia
Sound, Space, and Spirit in Byzantium
Bissera V. Pentcheva
Winner of the 2018 Award for Excellence in the Study of Religion (Historical Studies) from the American Academy of Religion
"The interdisciplinary methods of exploration and the development of digital technology in the cultural heritage preservation of the Hagia Sophia's aural and visual environment in Pentcheva's book are intriguing, well-researched, and rich to a depth previously unexplored. Hagia Sophia: Sound, Space, and Spirit in Byzantium is worth adding to any collection exploring new innovations in archeoacoustical, art historical, and architectural research in Byzantine or medieval periods."
Description

Reviews

Bio

Table of Contents

Subjects
Experiencing the resonant acoustics of the church of Hagia Sophia allowed the Byzantine participants in its liturgical rituals to be filled with the Spirit of God, and even to become his image on earth. Bissera Pentcheva's vibrant analysis examines how these sung rites combined with the church's architectural space to make Hagia Sophia a performative place of worship representative of Byzantine religious culture in all its sensory richness.
Coupling digital acoustic models and video with a close examination of liturgical texts and melodic structures, Pentcheva applies art-historical, philosophical, archeoacoustical, and anthropological methodologies to provide insight into the complementary ways liturgy and location worked to animate worshippers in Byzantium. Rather than focus on the architectural form of the building, the technology of its construction, or the political ideology of its decoration, Pentcheva delves into the performativity of Hagia Sophia and explains how the "icons of sound" created by the sung liturgy and architectural reverberation formed an aural experience that led to mystical transcendence for worshippers, opening access to the imagined celestial sound of the angelic choirs.
Immersive, deeply researched, and beautifully illustrated, this exploration of Hagia Sophia sheds new light on sacred space, iconicity, and religious devotion in Byzantium. Scholars of art and architectural history, religious studies, music and acoustics, and the medieval period will especially appreciate Pentcheva's field-advancing work.
"The interdisciplinary methods of exploration and the development of digital technology in the cultural heritage preservation of the Hagia Sophia's aural and visual environment in Pentcheva's book are intriguing, well-researched, and rich to a depth previously unexplored. Hagia Sophia: Sound, Space, and Spirit in Byzantium is worth adding to any collection exploring new innovations in archeoacoustical, art historical, and architectural research in Byzantine or medieval periods."
"Evocatively rendered in careful prose, new photography, and recorded sound, this synthetic account breathes new life into a remarkable, elusive monument. Highly recommended."
"Reminds us not only how much the study of aurality in Byzantine studies has yet to offer but also what the hidden aspects of Hagia Sophia might still yield."
"This erudite, highly original book explores the ways in which the sixth-century church of Hagia Sophia engaged all the senses in a rich and dynamic exchange of air, sound, fragrance, movement, and light between heaven and earth to create an all-enveloping spiritual experience for the worshipper. Using sources ranging from modern acoustic science to sixth-century poetry, Pentcheva establishes a fluid, multisensory, kinetic interpretive model that will transform our understanding of Byzantine sacred space."
"This handsome volume reflects the author's deep and sustained engagement of more than a decade with the sensory world of Byzantine worshippers as they experienced objects, ritual performance, and Hagia Sophia's architectural setting."
Bissera V. Pentcheva is Professor of Art History at Stanford University and the author of Icons and Power: The Mother of God in Byzantium and The Sensual Icon: Space, Ritual, and the Senses in Byzantium, both also published by Penn State University Press.
Contents
List of Illustrations
Acknowledgments
Introduction
1 Sophia and Choros: The Making of Sacred Space in Byzantium
2 Inspiriting in the Byzantine Consecration (Kathierōsis) Rite
3 Icons of Breath
4 Aural Architecture
5 Material Flux: Marble, Water, and Chant
6 The Horizontal Mirror and the Poetics of the Imaginary
7 Empathy and the Making of Art in Byzantium
Conclusion
Notes
Bibliography
Index
Mailing List
Subscribe to our mailing list and be notified about new titles, journals and catalogs.