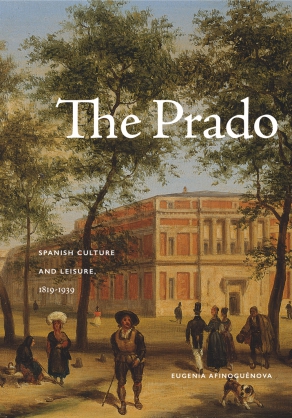 The Prado
Spanish Culture and Leisure, 1819–1939
Eugenia Afinoguénova
BUY
The Prado
Spanish Culture and Leisure, 1819–1939
Eugenia Afinoguénova
"Eugenia Afinoguénova plays on the complex relationship between the Museo and the Paseo del Prado to make a compelling argument about the liminal and shifting position of the Spanish museum in relation to nationhood and the public. Her deep mining of the archival sources and creative integration of museum and leisure studies should be read by all who love a great museum."
Description

Reviews

Bio

Table of Contents

Subjects
The Prado
takes an unconventional look at Spain's most iconic art museum. Focusing on the Prado as a space of urban leisure, Eugenia Afinoguénova highlights the political history of the museum's relation to the monarchy, the church, and the liberal nation-state, as well as its role as an extension of Madrid's social center, the Prado Promenade.
Rather than assume that visitors agreed about how to interpret the museum, Afinoguénova approaches the history of the Prado as a debate about culture and leisure. Just like those crossing the museum's threshold, who did not always trace a firm line between what they could see or do inside the building and outside on the Paseo del Prado, the participants in this debate—journalists, politicians, museum directors, art critics—considered museum-going to be part of a broader discussion concerning citizenship and voting rights, the rise of Madrid to the status of a modern capital, and the growing gap between town and country.
Based on extensive archival research on the museum's displays and policies as well as the attitudes of visitors and city-dwellers, The Prado unfolds the museum's many political and propagandistic roles and examines its complicated history as a monument to the tension between culture and leisure. Art historians and scholars of museum studies and visual and leisure culture will find this foundational study of the Prado invaluable.
"Eugenia Afinoguénova plays on the complex relationship between the Museo and the Paseo del Prado to make a compelling argument about the liminal and shifting position of the Spanish museum in relation to nationhood and the public. Her deep mining of the archival sources and creative integration of museum and leisure studies should be read by all who love a great museum."
"This book is much more than a history of the Prado Museum. Afinoguénova's brilliant perception is that the history of the museum can be understood only by situating it in the context of the evolving recreational activities and, increasingly, street politics that took place in the Prado Promenade outside its walls. A fascinating contribution to the history of leisure that shows its imbrication with politics, class, and gender."
Eugenia Afinoguénova is Professor of Spanish and Spanish Culture at Marquette University. She is the co-editor of Spain Is (Still) Different: Tourism and Discourse in Spanish Identity and the author of El idiota superviviente: Artes y letras españolas frente a la "muerte del hombre," 1969–1990.
Contents
List of Illustrations
Acknowledgments
Introduction: Between the Prado and the Pradera
1 A Royal Public Institution, 1819–1833
2 Inscribing Monarchy into the New Regime, 1833–1868
3 Museum and Revolution, 1868–1874
4 Becoming National, 1874–1902
5 The Era of the Masses, 1902–1936
Epilogue: "More Important for Spain than the Republic and the Monarchy Combined"
Notes
Bibliography
Index
Mailing List
Subscribe to our mailing list and be notified about new titles, journals and catalogs.