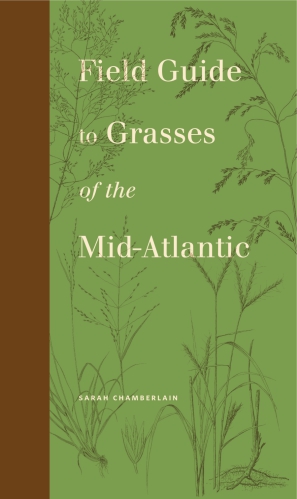 Field Guide to Grasses of the Mid-Atlantic
Sarah Chamberlain
COMING IN APRIL
Field Guide to Grasses of the Mid-Atlantic
Sarah Chamberlain
"Wide species coverage makes this a most useful guide on a topic rarely covered. It is appropriate for amateur plant enthusiasts; professionals will also find it appealing. The numerous excellent illustrations and icons for key couplets are very helpful."
Description

Reviews

Bio

Subjects
Grasses are among the most ubiquitous plants on the planet. They inhabit a wide geographic range and are found in a variety of natural habitats. The small parts of the grass flower and specialized terminology, however, can make identifying grasses a challenging endeavor. Sarah Chamberlain's
Field Guide to Grasses of the Mid-Atlantic
makes identification simpler for everyone—regardless of their previous botanical knowledge.
Featuring an easy-to-use dichotomous key, this is a user-friendly guide to more than 300 types of grasses found from the Blue Ridge Mountains and southern plains to the Appalachians and the Allegheny Plateau. Each major entry contains detailed species diagrams as well as common names, habitats, and distribution. The book's opening sections outline the parts of grass flowers and describe stem, leaf, and sheath characteristics.
With a wealth of illustrations, instructions on how to use the key, and a glossary of terms, Field Guide to Grasses of the Mid-Atlantic is an indispensable reference for naturalists and conservationists, botanists, land management professionals, and students and scholars of mid-Atlantic flora.
"Wide species coverage makes this a most useful guide on a topic rarely covered. It is appropriate for amateur plant enthusiasts; professionals will also find it appealing. The numerous excellent illustrations and icons for key couplets are very helpful."
Sarah Chamberlain is a botanist and researcher at the Penn State Riparia Research Center, curator of the Penn State Herbarium, and a member of the board of directors of the Pennsylvania Native Plant Society.
Also of Interest
Mailing List
Subscribe to our mailing list and be notified about new titles, journals and catalogs.