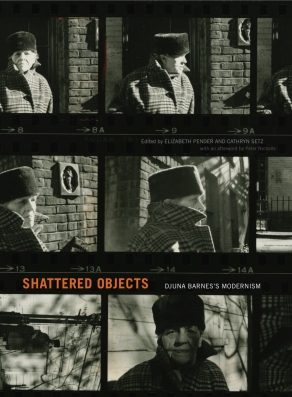 Shattered Objects
Djuna Barnes's Modernism
Edited by Elizabeth Pender and Cathryn Setz
BUY
Shattered Objects
Djuna Barnes's Modernism
Edited by Elizabeth Pender and Cathryn Setz
"Shattered Objects is an embarrassment of riches: Barnes and affect studies; Barnes and film studies; Barnes and animal studies; Barnes and queer studies. I could go on and on with its generous contributions, but let it be said that, for once and for all, this collection proves her to be a supreme modernist amongst her towering peers. Across these super-sharp pieces she now shines brightest in that grand constellation of twentieth-century experimental art."
Description

Reviews

Bio

Subjects
Djuna Barnes once said that "there is always more surface to a shattered object than a whole object," and the statement is provocative when considering her own writing and art. Arriving as an accomplished writer and journalist in 1920s Paris, Barnes produced an eclectic body of work whose objects and surfaces continue to fascinate readers. In this volume, a series of internationally renowned scholars reassess both Barnes and modernism through a close examination of her prose, poetry, journalism, visual art, and drama.
From the modernist classic Nightwood to the late verse play The Antiphon, Barnes's distinctive voice has long resisted any easy assimilation into specific groupings of authors or texts. Responding to expansions of canons and critical questions that have shaped modernist studies since the late twentieth century, the chapters in this volume bring new thinking to her full oeuvre and collectively demonstrate that the study of modernism necessarily includes the study of Barnes. The contributors show Barnes's significant contributions to twenty-first-century discourses on topics such as the politics of print culture, the representation of animals and the human, queer aesthetics, modernist criticism, authorship, style, affect, and translation between media.
Featuring an afterword by Peter Nicholls and a comprehensive bibliography, Shattered Objects provides a timely assessment of Barnes and considers the implications of reading her critically as an important modernist writer and artist. It will be welcomed by scholars of literature, art history, and the modernist era.
In addition to the editors, contributors to this volume are Daniela Caselli, Bruce Gardiner, Alex Goody, Melissa Jane Hardie, Tyrus Miller, Drew Milne, Peter Nicholls, Rachel Potter, Julie Taylor, and Joanne Winning.
"Shattered Objects is an embarrassment of riches: Barnes and affect studies; Barnes and film studies; Barnes and animal studies; Barnes and queer studies. I could go on and on with its generous contributions, but let it be said that, for once and for all, this collection proves her to be a supreme modernist amongst her towering peers. Across these super-sharp pieces she now shines brightest in that grand constellation of twentieth-century experimental art."
Elizabeth Pender has taught English literature at the Universities of Sydney and Cambridge. She is currently based at the University of Sydney.
Cathryn Setz is Associate Visiting Research Fellow at the Rothermere American Institute at the University of Oxford and the founder of the Djuna Barnes Research Seminar.
Mailing List
Subscribe to our mailing list and be notified about new titles, journals and catalogs.