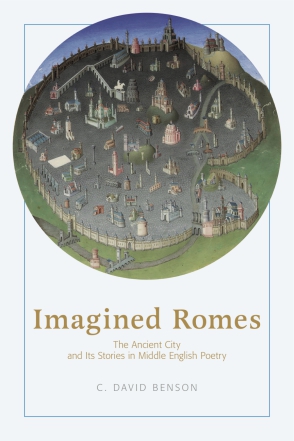 Imagined Romes
The Ancient City and Its Stories in Middle English Poetry
C. David Benson
LEARN MORE
Imagined Romes
The Ancient City and Its Stories in Middle English Poetry
C. David Benson
"The relation of medieval cultures to Rome is creatively conflicted: early Christianity defines itself against everything that 'Rome' stands for, while the Papacy models itself as a new empire. David Benson's Imagined Romes takes us into the medieval city and trains us to understand how late medieval English readers of and visitors to the eternal city imagined its republican and imperial past. The resultant book—ever lucid and engaging—is full of illuminating surprises."
Description

Reviews

Bio

Table of Contents

Subjects
This volume explores the conflicting representations of ancient Rome—one of the most important European cities in the medieval imagination—in late Middle English poetry.
Once the capital of a great pagan empire whose ruined monuments still inspired awe in the Middle Ages, Rome, the seat of the pope, became a site of Christian pilgrimage owing to the fame of its early martyrs, whose relics sanctified the city and whose help was sought by pilgrims to their shrines. C. David Benson analyzes the variety of ways that Rome and its citizens, both pre-Christian and Christian, are presented in a range of Middle English poems, from lesser-known, anonymous works to the poetry of Gower, Chaucer, Langland, and Lydgate. Benson discusses how these poets conceive of ancient Rome and its citizens—especially the women of Rome—as well as why this matters to their works.
An insightful and innovative study, Imagined Romes addresses a crucial lacuna in the scholarship of Rome in the medieval imaginary and provides fresh perspectives on the work of four of the most prominent Middle English poets.
"The relation of medieval cultures to Rome is creatively conflicted: early Christianity defines itself against everything that 'Rome' stands for, while the Papacy models itself as a new empire. David Benson's Imagined Romes takes us into the medieval city and trains us to understand how late medieval English readers of and visitors to the eternal city imagined its republican and imperial past. The resultant book—ever lucid and engaging—is full of illuminating surprises."
"David Benson has written a book that was much needed not only by students of medieval English literature but by all those who are interested in pagan and Christian Rome and her image after the fall of the empire. Imagined Romes is a work of intelligence and love, full of the surprises that only a great scholar can set up and rewarding throughout."
"Benson's lyrical book about English writers' recovery of ancient Rome allows us to see how profoundly ideas about Rome shaped the later Middle Ages. Imagined Romes offers a delightful tour of an ancient city that existed only in the memories of Middle English poets. Despite being a fantasy, this Rome shaped conceptions of power, truth, justice, mercy, love, tragedy, and literature for generations. Benson's book will appeal to literary scholars, medievalists, and any reader who has fallen in love with a place found only in a book."
C. David Benson is Distinguished Professor Emeritus of English and Medieval Studies at the University of Connecticut. He is the author of Public Piers Plowman: Modern Scholarship and Late Medieval Culture, also published by Penn State University Press.
Acknowledgments
Note on Spelling
Introduction
Part 1: Ancient Rome and Its Objects
1 The Relics of Rome: Christian Mercy and the Stacions of Rome
2 The Ruins of Rome: Pagan Marvels and the Metrical Mirabilia
Part 2: Narratives of Ancient Romans
3 Civic Romans in Gower's Confessio Amantis
4 Heroic (Women) Romans in Chaucer's Canterbury Tales and the Legend of
Good Women
5 Virtuous Romans in Piers Plowman
6 Tragic Romans in Lydgate's Fall of Princes
Notes
Bibliography
Index
Mailing List
Subscribe to our mailing list and be notified about new titles, journals and catalogs.