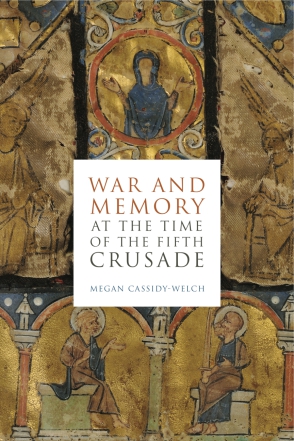 War and Memory at the Time of the Fifth Crusade
Megan Cassidy-Welch
LEARN MORE
War and Memory at the Time of the Fifth Crusade
Megan Cassidy-Welch
"By brilliantly reading the major sources for the Fifth Crusade as 'acts of remembrance,' sources intended to shape the individual and collective memory of the crusade, Megan Cassidy-Welch pushes us to reconsider both medieval and modern memories of this epic campaign."
Description

Reviews

Bio

Subjects
In this book, Megan Cassidy-Welch challenges the notion that using memories of war to articulate and communicate collective identity is exclusively a modern phenomenon.
War and Memory at the Time of the Fifth Crusade
explores how and why remembering war came to be culturally meaningful during the early thirteenth century.
By the 1200s, discourses of crusading were deeply steeped in the language of memory: crusaders understood themselves to be acting in remembrance of Christ's sacrifice and following in the footsteps of their ancestors. At the same time, the foundational narratives of the First Crusade began to be transformed by vernacular histories and the advent of crusading romance. Examining how the Fifth Crusade was remembered and commemorated during its triumphs and immediately after its disastrous conclusion, Cassidy-Welch brings a nuanced perspective to the prevailing historiography on war memory, showing that remembering war was significant and meaningful centuries before the advent of the nation-state.
This thoughtful and novel study of the Fifth Crusade shows it to be a key moment in the history of remembering war and provides new insights into medieval communication. It will be invaluable reading for scholars interested in the Fifth Crusade, medieval war memory, and the use of war memory.
"By brilliantly reading the major sources for the Fifth Crusade as 'acts of remembrance,' sources intended to shape the individual and collective memory of the crusade, Megan Cassidy-Welch pushes us to reconsider both medieval and modern memories of this epic campaign."
"Bringing to bear a set of provocative questions and sophisticated theoretical concepts, Megan Cassidy-Welch illuminates the powerful scope of memory in shaping the experience of crusading during the thirteenth century. War and Memory at the Time of the Fifth Crusade argues that remembering war had its own temporal and spatial logic, which influenced how crusaders understood and narrated their experiences at home and abroad."
"Using the Fifth Crusade as a case study, Cassidy-Welch (Univ. of Queensland, Australia) probes several detailed accounts written by eyewitnesses to the events in the Holy Land. This very-well-organized scholarly study, written by a respected authority on the Crusades, incorporates very helpful concluding segments at the end of each chapter, maps, and many up-to-date notes and references."
Megan Cassidy-Welch is Professor of History at the University of Queensland, Australia. She is the editor of Remembering the Crusades and Crusading and coeditor of Crusades and Memory.
Mailing List
Subscribe to our mailing list and be notified about new titles, journals and catalogs.