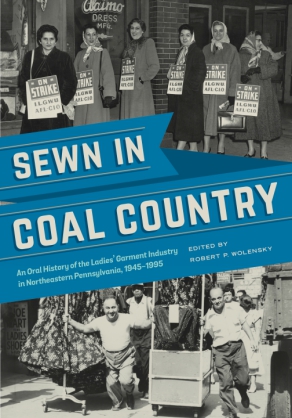 Sewn in Coal Country
An Oral History of the Ladies' Garment Industry in Northeastern Pennsylvania, 1945–1995
Edited by Robert P. Wolensky
BUY
Sewn in Coal Country
An Oral History of the Ladies' Garment Industry in Northeastern Pennsylvania, 1945–1995
Edited by Robert P. Wolensky
"A detailed yet readable study of the lives of the garment industry. This is a fine social history of ordinary people that brings the past to life."
Description

Reviews

Bio

Subjects
By the mid-1930s, Pennsylvania's anthracite coal industry was facing a steady decline. Mining areas such as the Wyoming Valley around the cities of Wilkes-Barre and Pittston were full of willing workers (including women) who proved irresistibly attractive to New York City's "runaway shops"—ladies' apparel factories seeking lower labor and other costs. The International Ladies' Garment Workers' Union (ILGWU) soon followed, and the Valley became a thriving hub of clothing production and union activity. This volume tells the story of the area's apparel industry through the voices of men and women who lived it.
Drawing from an archive of over sixty audio-recorded interviews within the Northeastern Pennsylvania Oral and Life History Collection, Sewn in Coal Country showcases sixteen stories told by workers, shop owners, union leaders, and others. The interview subjects recount the ILGWU-led movement to organize the shops, the conflicts between the district union and the national office in New York, the solidarity unionism approach of leader Min Matheson, the role of organized crime within the business, and the failed efforts to save the industry in the 1980s and 1990s. Robert P. Wolensky places the narratives in the larger context of American clothing manufacturing during the period and highlights their broader implications for the study of labor, gender, the working class, and oral history.
Highly readable and thoroughly enlightening, this significant contribution to the study of labor history and women's history will appeal to anyone interested in the relationships among workers, unions, management, and community; the effects of economic change on an area and its residents; the role of organized crime within the industry; and Pennsylvania history—especially the social history of industrialization and deindustrialization during the twentieth century.
"A detailed yet readable study of the lives of the garment industry. This is a fine social history of ordinary people that brings the past to life."
"An important contribution to US labor history and twentieth-century US history. The interviews offer nuanced views and multiple perspectives on labor struggles in the region, offering particularly new and valuable views of the influence of geography on industrial development and the growth of the trade union movement and showing why we need a broad view to understand even local industrial history."
Robert P. Wolensky is Professor Emeritus of Sociology at the University of Wisconsin–Stevens Point and Adjunct Professor of History at King's College, Wilkes-Barre. He is the coauthor of Fighting for the Union Label: The Women's Garment Industry and the ILGWU in Pennsylvania, also published by Penn State University Press.
Mailing List
Subscribe to our mailing list and be notified about new titles, journals and catalogs.