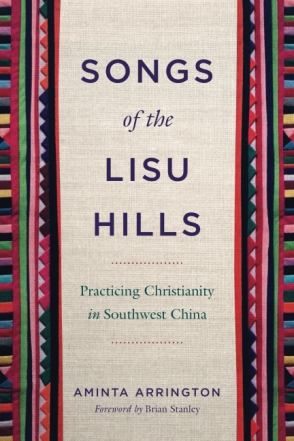 Songs of the Lisu Hills
Practicing Christianity in Southwest China
Aminta Arrington, and Foreword by Brian Stanley
BUY
Songs of the Lisu Hills
Practicing Christianity in Southwest China
Aminta Arrington, and Foreword by Brian Stanley
"This original and insightful study of the indigenization of Christianity among Lisu communities in China's southwestern borderlands is thoroughly researched, convincingly argued, and beautifully written. Aminta Arrington draws on extensive ethnographic information, archival materials, and local Lisu publications to contextualize the making of Lisu churches in the new century."
Description

Reviews

Bio

Table of Contents

Subjects
The story of how the Lisu of southwest China were evangelized one hundred years ago by the China Inland Mission is a familiar one in mission circles. The subsequent history of the Lisu church, however, is much less well known.
Songs of the Lisu Hills
brings this history up to date, recounting the unlikely story of how the Lisu maintained their faith through twenty-two years of government persecution and illuminating how Lisu Christians transformed the text-based religion brought by the missionaries into a faith centered around an embodied set of Christian practices.
Based on ethnographic fieldwork as well as archival research, this volume documents the development of Lisu Christianity, both through larger social forces and through the stories of individual believers. It explores how the Lisu, most of whom remain subsistence farmers, have oriented their faith less around cognitive notions of belief and more around participation in a rhythm of shared Christian practices, such as line dancing, attending church and festivals, evangelizing, working in each other's fields, and singing translated Western hymns. These embodied practices demonstrate how Christianity developed in the mountainous margins of the world's largest atheist state.
A much-needed expansion of the Lisu story into a complex study of the evolution of a world Christian community, this book will appeal to scholars working at the intersections of World Christianity, anthropology of religion, ethnography, Chinese Christianity, and mission studies.
"This original and insightful study of the indigenization of Christianity among Lisu communities in China's southwestern borderlands is thoroughly researched, convincingly argued, and beautifully written. Aminta Arrington draws on extensive ethnographic information, archival materials, and local Lisu publications to contextualize the making of Lisu churches in the new century."
"A compelling story about the contested Christianity embraced by the Lisu. The author shows how the Lisu have made translated Western hymns their own, how they express their faith in practices rather than in creeds, and how they perpetuate these practices, which serve as boundary markers that help maintain Lisu identity as one of fifty-five minorities in China."
Aminta Arrington is Assistant Professor of Intercultural Studies at John Brown University.
List of Illustrations
Foreword by Brian Stanley
Acknowledgments
List of Abbreviations
Notes About the Lisu Language and Its Usage
Introduction: Tso Lo Hamlet
Voice: Mie Hui Qing
1. J. O. Fraser and the Beginnings of Lisu Christianity
2. Linguistic Borderlands
Voice: A-na
3. The Evangelization of the Nujiang Valley
Voice: Yu Ping An
4. Fixing the Boundaries
Voice: Isaiah
5. The Easter Festival
Voice: Timothy
6. "Let's Pray for Each Other"
7. Copying the Bible by Torchlight
Voice: Jesse
8. Hymns of the Everlasting Hills
Voice: Naomi
9. Building the House of Prayer
Postscript
Notes
Bibliography
Index
Mailing List
Subscribe to our mailing list and be notified about new titles, journals and catalogs.