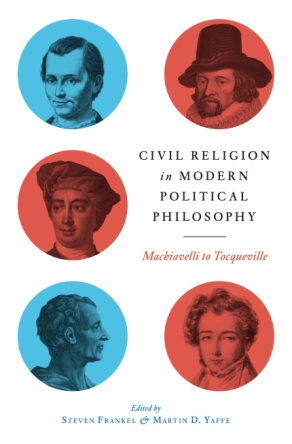 Civil Religion in Modern Political Philosophy
Machiavelli to Tocqueville
Edited by Steven Frankel, Daniel Doneson, and Martin D. Yaffe
COMING IN JUNE
Civil Religion in Modern Political Philosophy
Machiavelli to Tocqueville
Edited by Steven Frankel, Daniel Doneson, and Martin D. Yaffe
"The question of civil religion deserves our renewed interest, as we witness the longstanding assumptions of modern secularization being shaken. This excellent collection of essays on that old and timely subject brings out both the common assumptions and a range of controversies among liberalism's founding thinkers. Add to the mix a healthy dose of disagreement among the essays' authors, and there is much food for thought here."
Description

Reviews

Bio

Subjects
Inspired by Machiavelli, modern philosophers held that the tension between the goals of biblical piety and the goals of political life needed to be resolved in favor of the political, and so they attempted to recast and delimit traditional Christian teaching to serve and stabilize political life accordingly. This volume examines the thought and arguments of those thinkers who worked to remake Christianity into a civil religion from the early modern through modern periods.
Beginning with Machiavelli and continuing through to Alexander de Tocqueville, the essays in this collection explain in detail the ways in which these philosophers used religious and secular writing to build a civil religion in the West. Early chapters examine topics such as Machiavelli's comparisons of Christianity with Roman religion, Francis Bacon's cherry-picking of Christian doctrines in service of scientific innovation, and Spinoza's attempt to replace long-held superstitions with newer, "progressive" ones. Subsequent essays probe the scripture-based, anti-Christian argument that religion must be subordinate to politics espoused by Rene Descartes, Jean-Jacques Rousseau, and David Hume, each of whom championed reason over divine authority. The book culminates in the study of civil religion in America, with chapters on John Locke, Montesquieu, and the American Founders probing the relation between religious and civil history, acts, and authority. The last chapter is an examination of Tocqueville's account of civil religion and the American regime.
Detailed, thought-provoking, and based on the careful study of original texts, this survey of religion and politics in the West will appeal to scholars in the history of political philosophy, political theory, and American political thought.
"The question of civil religion deserves our renewed interest, as we witness the longstanding assumptions of modern secularization being shaken. This excellent collection of essays on that old and timely subject brings out both the common assumptions and a range of controversies among liberalism's founding thinkers. Add to the mix a healthy dose of disagreement among the essays' authors, and there is much food for thought here."
Steven Frankel is Professor of Philosophy at Xavier University.
Daniel Doneson is Lecturer in the Benjamin Franklin Project of the Department of Chemical Engineering at the Massachusetts Institute of Technology.
Martin D. Yaffe is Professor of Philosophy and Religion at the University of North Texas.
Mailing List
Subscribe to our mailing list and be notified about new titles, journals and catalogs.