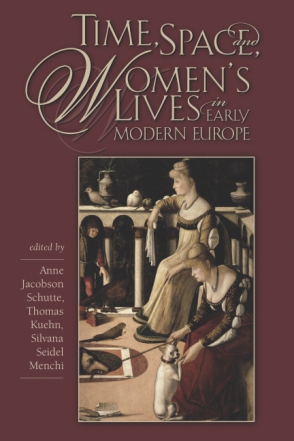 Time, Space, and Women's Lives in Early Modern Europe
Edited by Anne Jacobson Schutte, Thomas Kuehn, and Silvana Seidel Menchi
BUY
Time, Space, and Women's Lives in Early Modern Europe
Edited by Anne Jacobson Schutte, Thomas Kuehn, and Silvana Seidel Menchi
"[This collection] provides remarkable variety and vitality to the study of women in early modern Europe. In five parts the book seeks to establish a new paradigm for women's studies, moving beyond traditional male perceptions about female nature to women's lived experiences.… It is highly commended."
Description

Reviews

Bio

Table of Contents
This collection offers a variety of approaches to aspects of women's lives. It moves beyond men's prescriptive pronouncements about female nature to women's lived experiences, replacing the singular woman with plural women and illuminating female agency. The contributors show that women's lives changed over the life course and differed according to region and social class. They also demonstrate that in the early modern period the largely private spaces in women's lives were not enclosed worlds isolated from the public spaces in which men operated.
Contributors to this important collection are leading international scholars and offer strong, substantial, and archival-based research.
"[This collection] provides remarkable variety and vitality to the study of women in early modern Europe. In five parts the book seeks to establish a new paradigm for women's studies, moving beyond traditional male perceptions about female nature to women's lived experiences.… It is highly commended."
"The new case histories offered here enrich our understanding of the variety of women's experience."
"[This book] is highly recommended for anyone studying or teaching gender history."
"The quality of the essays in this volume is very high, and they are a mine of bibliographical information about the history of early modern women.… The volume as a whole is a serious contribution to our understanding of the position of women in early modern society and makes for heartening reading."
Anne Jacobson Schutte, professor of history at the University of Virginia, specializes in religion, culture, and gender in early modern Italy. Her publications include Pier Paolo Vergerio: The Making of an Italian Reformer (1977), Printed Italian Vernacular Religious Books, 1465–1550: A Finding List (1983), and editions in Italian and English of Cecilia Ferrazzi's inquisitorial autobiography (1991, 1996).
Thomas Kuehn, professor of history at Clemson University, is the author of Emancipation in Late Medieval Florence (1982) and Law, Family, and Women: Toward a Legal Anthropology of Renaissance Italy (1991).
Silvana Seidel Menchi is professor of history at the Università degli Studi di Pisa. Among her numerous publications on sixteenth-century religious life, the best known is Erasmo in Italia, 1520–1580 (1987), which has appeared in German and French translations.
Illustrations
Introduction
Thomas Kuehn and Anne Jacobson Schutte
Part 1
Women's History and Social History: Are Structures Necessary? .....Merry Wiesner-Hanks
The Querelle des Femmes as a Cultural Studies Paradigm .....Margarete Zimmermann
Grammar in Arcadia .....Gabriele Beck-Busse
The Girl and the Hourglass: Periodization of Women's Lives in Western Preindustrial Societies .....Silvana Seidel Menchi
Part 2
Getting Back the Dowry: Venice, c. 1360–1530 .....Stanley Chojnacki
Daughters, Mothers, Wives, and Widows: Women as Legal Persons .....Thomas Kuehn
Women Married Elsewhere: Gender and Citizenship in Italy .....Julius Kirshner
Part 3
"Saints" and "Witches": in Early Modern Italy: Stepsisters or Strangers? .....Anne Jacobson Schutte
The Dimensions of the Cloister: Enclosure, Constraint, and Protection in Seventeenth-Century Italy .....Francesca Medioli
The Third Status .....Gabriella Zarri
Part 4
"Non lo volevo per marito: in modo alcuno": Forced Marriages, Generational Conflicts, and the Limits of Patriarchal Power in Early Modern Venice, c. 1580–1680 .....Daniela Hacke
Becoming a Mother in the Seventeenth Century: The Experience of a Roman Noblewoman .....Marina d'Amelia
Space, Time, and the Power of Aristocratic Wives in Yorkist and Early Tudor England, 1450–1550 .....Barbara J. Harris
Eighteenth-Century Marriage Contracts: Linking Legal and Gender History .....Gunda Barth-Scalmani
Part 5
En-Gendering Selfhood: Defining Differences and Forging Identities in Early Modern Europe .....Kristin Eldyss Sorensen Zapalac
Construction of Masculinity and Male Identity in Personal Testimonies: Hans Von Schweinichen (1552–1616) in His Memorial .....Heide Wunder
About the Contributors
Index
Mailing List
Subscribe to our mailing list and be notified about new titles, journals and catalogs.