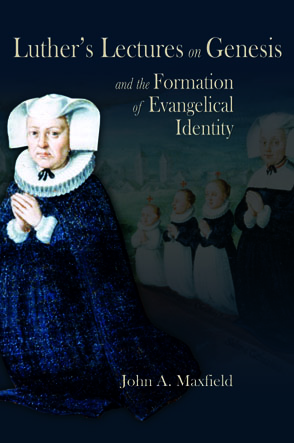 Luther's Lectures on Genesis and the Formation of Evangelical Identity
John A. Maxfield
LEARN MORE
Luther's Lectures on Genesis and the Formation of Evangelical Identity
John A. Maxfield
"Maxfield's effort, which is very well grounded in the sources, would reward careful attention by both scholars and casual readers."
Description

Reviews

Bio

Table of Contents
Martin Luther's lectures on Genesis, delivered at the University of Wittenberg during the last decade of his life and later published by his students, allow modern readers to view a sixteenth-century professor engaging his students with the text of scripture and using that text to form them spiritually. The lectures show how Luther attempted to form in his students a new identity, an Evangelical identity, enabling them to make sense of the rapidly changing society and church in which they were being prepared to serve, primarily as pastors in the developing territorial churches of the Reformation.
This study uses the text of the lectures to outline the contours of the new identity that Luther laid out through his exposition of Genesis. They include how Luther approached and taught his students to perceive the text of holy scripture; how that text unveiled for Luther the nature of Christian life in the world; and how Luther taught his students to view the past, the present, and the future of the church and the world through the book of Genesis.
Whether in the published editions of the lectures the historic Luther was actually misunderstood or was transformed in some way into the prophetic Luther of later memory, the text reveals the Luther that his students heard and subsequent generations read.
"Maxfield's effort, which is very well grounded in the sources, would reward careful attention by both scholars and casual readers."
"Maxfield has presented a methodically successful, innovative study, which offers productive potential especially because it places Luther the exegete in historical context. The Wittenberger's concern was above all to introduce for his auditors an "Evangelical identity" by making them hearers of the prophets and apostles. In contrast to historical-philological Luther research, which above all has pointed out the subtleties of his hermeneutic and his exegetical erudition, this interpretation is a sensible and stimulating corrective, focused as it is on the intended goals of the Reformer."
"Maxfield gives the reader a glimpse of what Luther was like as a university lecturer commenting orally on biblical texts. He also shows how Luther set out to form his students spiritually by outlining the contours of a new religious identity through his interpretation of the stories found in the book of Genesis.... This book provides helpful insights into Luther's understanding of the Old Testament and of the new elements of his religious outlook."
"This is a very good book, thoughtful, energetic, and well grounded in the sources. It is also well written, most often persuasive, and wonderfully suggestive of the historical insights and theological riches yet to be mined from the Enarrationes."
"Overall, Maxfield gives a coherent, scholarly, generally focused presentation of Luther's methods, theology and pastoral-didactic intent in his lectures on Genesis. An enjoyable and edifying read, Maxfield's book is a welcome addition to the field of Reformation scholarship."
"A helpful study for scholars wishing to explore how exegesis functioned in the Reformation and how Luther propagated his views to those who carried them to congregations, this volume also makes a delightful and helpful read for amateur historians who want to spend a few hours sitting at the feet of a master teacher, albeit one from a different culture with different methods. The book is commended to our readers."
"This is a welcome assessment of Luther's Genesisvorlesung and their use in the formation of early Evangelical identity."
"His text indicates a thorough grounding in the scholarship on the Genesis lectures and his focus on Luther as professor provides a helpful new perspective."
"Abundant scholarship exists concerning these lectures, but Maxfield's analysis differs significantly by illuminating the religious history and implication therefrom, without degenerating into a covert religious rant. Maxfield maintains a high level of scholarship while emulating Luther's own desire for a diverse and inclusive audience. Maxfield's work, like Luther's, is accessible."
John A. Maxfield received his PhD in history from Princeton Theological Seminary and completed his theological studies at Concordia Theological Seminary. He is assistant professor of Religious Studies at Concordia University College of Alberta. He continues research in the German Reformation and the theology and life of Dr. Martin Luther, focusing especially on the cultural contexts and influences of religion in the history of Western civilization. His published articles range from studies of Saint Augustine's understanding of history and progress to Luther's early development through his conflict with the papal church.
Figures
Acknowledgments
A Note on Translations
Abbreviations
Introduction: Why the Genesis Lectures?
The Genesis Lectures and Luther's World of Faith
Prophets and Apostles at the Professor's Lectern
A Deluge of Books
A Book to Be Heard
Engaging His Students
A Window into the Lecture Hall
The Professor and His Text
Genesis
The First Book of Moses and the Holy Spirit
Divine
Scripture and Human Authorities
The Limits of Philology
Genesis as Christian Revelation — The Exercise of the Word
The Arena of God's Play—Christian Life and Holiness in the World
Holy Place, Holy Work, and Holy Order
Civil Government as Holy Order
The Household as Holy Order
The Distinctive Holiness of Christian Life in the World
The True Contemplative Life
The Reconstruction of the Christian Past
Humanism and History
Genesis as the History of the Church between God and the Devil
Luther as Humanist and Historian
The Church and the World in the Last Days
The Ministry of Angels
A Golden Age and the Dregs of Time
Interpreting the Times
Epilogue
Bibliography
Index