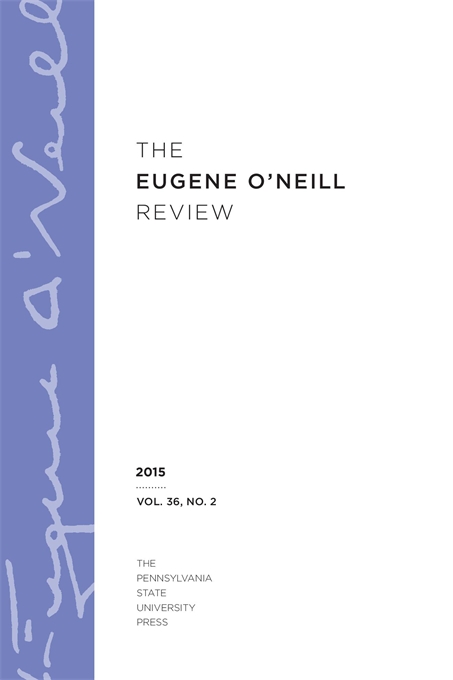 The Eugene O'Neill Review
Alex Pettit, Editor
SUBSCRIBE / RENEW
The Eugene O'Neill Review
Alex Pettit, Editor
Description

Board

Submissions

Pricing

Indexing
The Eugene O'Neill Review publishes substantial and authoritative peer-reviewed presentations of new research, aimed primarily at a community of scholars who have a keen interest and background in O'Neill's life and writings. Studies might focus on theatrical or literary history, including biography, or on critical interpretation. Consideration will be given to topics closely related, such as other figures in the Provincetown Players or other collaborators with O'Neill. We give special attention to publishing little-known or rediscovered documents, with appropriate contextualizing. Reports of newly opened or augmented archival resources are also welcome, as are book and performance reviews that trace the legacy of O'Neill's work.
The Eugene O'Neill Review is the official academic journal of the Eugene O'Neill Society, an organization of scholars, theater professionals, and enthusiasts, which began meeting in 1978.
Editor
Alex Pettit, University of North Texas
Book Review Editor
Zander Brietzke, Columbia University
Performance Review Editor
Ryder Thornton, Tulane University
Editorial Board
Judith E. Barlow, SUNY Albany
Steven F. Bloom, Lasell College
Patrick Chura, University of Akron
David Clare, University of Limerick
Robert M. Dowling, Center Connecticut Saint University
Kurt Eisen, Tennesse Tech University
Drew Eisenhauer, Lycée International Bossuet de Meaux
Anne Fletcher, Southern Illinois University
Eileen J. Herman, Dominican University
Noelia Hernando-Real, Universidad Autónoma de Madrid
Katie N. Johnson, Miami University
William Davies King, University of California, Santa Barbara
Brenda Murphy, University of Connecticut
J. Chris Westgate, California State University Fullerton
Beth Wynstra, Babson College
Shiyan Xu, Nanjing Normal University
If you would like to submit an article to The Eugene O'Neill Review, please visit http://www.editorialmanager.com/eor and create an author profile. The online system will guide you through the steps to upload your article for submission to the editorial office.
While critical and historical essays of the standard length (5000–8000 words) will remain the standard fare, consideration will also be given to shorter writings (notes, letters) and to longer works when the length seems clearly justified by the matter. Conference talks, however well-written, should be reconfigured for a reading public. Reviews of about 800 words should speak to what is important to remember about a book or performance. We will give special attention to publishing little-known or rediscovered documents, with appropriate contextualizing. Reports of newly opened archival resources are also welcome. All submissions should adhere to the guideline of the Chicago Manual of Style. Any pictures submitted need to be 300 dpi or higher. Authors are responsible for securing permission to use pictures or any text quoted beyond "fair use."
Submissions should be accompanied by an Abstract of up to 150 words. Abstract Guidelines may be found here.
Institutional Print & Online - $195.00
Institutional Print or Online - $139.00
Institutional Single Issue - $75.00
Individual Print & Online - $64.00
Individual Print or Online - $45.00
Individual Single Issue - $28.00
Outside US add Shipping & Handling - $19.00
Emerging Sources Citation Index
IBZ
MLA International Bibliography
Scopus