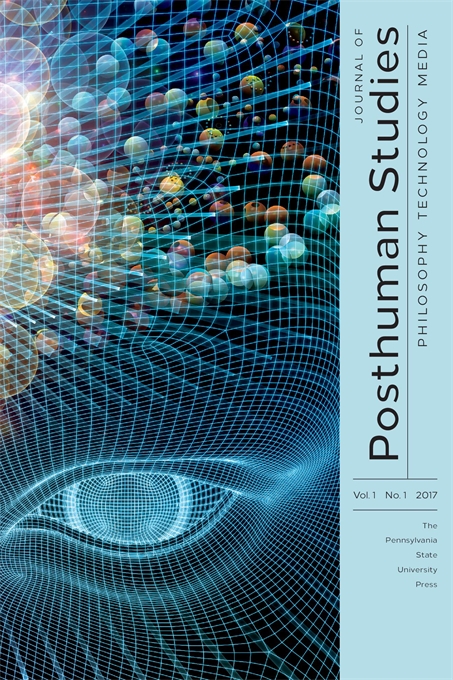 Journal of Posthuman Studies
Philosophy, Technology, Media
Stefan Lorenz Sorgner, Editor in Chief
Sangkyu Shin, Ex Officio Editor
SUBSCRIBE / RENEW
Journal of Posthuman Studies
Philosophy, Technology, Media
Stefan Lorenz Sorgner, Editor in Chief
Sangkyu Shin, Ex Officio Editor
Description

Board

Submissions

Pricing
The Journal of Posthuman Studies is a fully peer reviewed, multidisciplinary journal developed to analyze what it is to be human in an age of rapid technological, scientific, cultural and social evolution. As the boundaries between human and 'the other', technological, biological and environmental, are eroded and perceptions of normalcy are challenged, they have generated a range of ethical, philosophical, cultural, and artistic questions that this journal seeks to address. Drawing on theory from critical posthumanism and the normative reflections of transhumanism, it encourages constructive but rigorously critical dialogue through discussion papers, forums, and a carefully curated balance of research articles. The journal publishes papers on issues such as the consequences of enhancement, especially bioenhancement, transhumanist, and posthumanist accounts of "the human," and any and all ways in which they impact culture and society. The journal encourages submissions from a range of disciplines such as: philosophy, sociology, literary studies, cultural studies, critical theory, media studies, bioethics, medical ethics, anthropology, religious studies, disability studies, gender studies, queer studies, critical animal studies, environmental studies, and the visual arts.
Ewha Institute for the Humanities is the host institute for the Journal of Posthuman Studies.
Editor in Chief
Stefan Lorenz Sorgner, John Cabot University, Italy
Ex Officio Editor
Sangkyu Shin, Ewha Womans University, South Korea
Editorial Board
Karen Barad, University of California, Santa Cruz, United States
Russell Blackford, University of Newcastle, Australia
Rosi Braidotti, Utrecht University, Netherlands
Pierre Cassou-Noguès, Universite Paris-8, France
Mark Coeckelbergh, University of Vienna, Austria
Francesca Ferrando, New York University, United States
Luciano Floridi, University of Oxford, United Kingdom
Steve Fuller, University of Warwick, United Kingdom
Katherine Hayles, Duke University, United States
James Hughes, University of Massachusetts, Boston, United States
Hye-Sook Jeon, Ewha Womans University, South Korea
Eduardo Kac, School of the Art Institute of Chicago, United States
Hideto Nakajima, Tokyo Institute of Technology, Japan
Julian Savulescu, University of Oxford, United Kingdom
Susan Schneider, University of Connecticut, United States
Stelarc, Curtin University, Australia
Iain Thomson, University of New Mexico, United States
Gianni Vattimo, University of Turin, Italy
Kevin Warwick, Coventry University, United Kingdom
Wolfgang Welsch, University of Jena, Germany
Cary Wolfe, Rice University, United States
Institutional Print & Online - $168.00
Institutional Print or Online - $120.00
Institutional Single Issue - $65.00
Individual Print & Online - $53.00
Individual Print or Online - $40.00
Individual Single Issue - $25.00
Outside US add Shipping & Handling - $19.00
Mailing List
Subscribe to our mailing list and be notified about new titles, journals and catalogs.