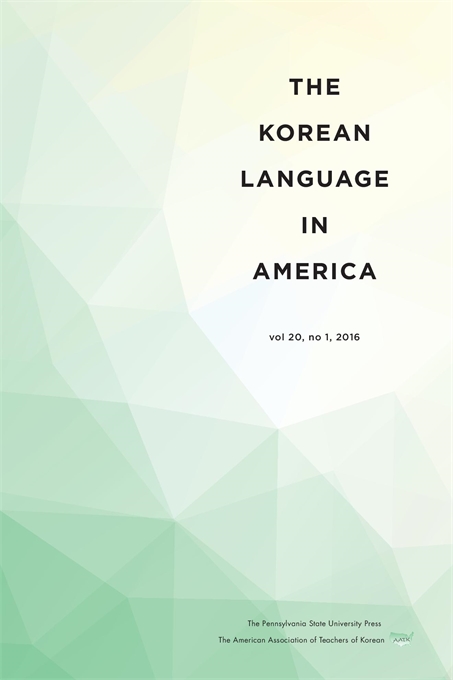 The Korean Language in America
Hae-Young Kim, Editor in Chief
SUBSCRIBE / RENEW
The Korean Language in America
Hae-Young Kim, Editor in Chief
Description

Board

Submissions

Pricing

Indexing
The Korean Language in America is a refereed scholarly journal that provides a platform for scholarship and professional best practices centering on the teaching of Korean both within the United States and outside.
It is the official journal of the American Association of Teachers of Korean.
Editor in Chief
Hae-Young Kim, Duke University
Editorial Board
Young-mee Yu Cho, Rutgers University
Hee Ju, University of Southern California
Sahie Kang, Defense Language Institute
Ihnhee Kim, Northwestern University
Mary Shin Kim, University of Hawai'i
Hyo Sang Lee, Indiana University
Mee-Jeong Park, University of Hawai'i at Manoa
Ok-Sook Park, Michigan State University
Sunyoung Shin, Indiana University
Sung-Ock Sohn, University of California at Los Angeles
Susan Gayle Strauss, Pennsylvania State University
Joowon Suh, Columbia University
Hye-Sook Wang, Brown University
The journal welcomes submissions on topics related to Korean language teaching and learning from a variety of disciplines and theoretical/methodological perspectives, representing Korean language teaching at all levels of instruction (i.e., K – 16 and beyond). Submissions should conform to the style/format requirements of The Korean Language in America (KLA), which can be obtained from the AATK website at http://www.aatk.org.
To submit a manuscript to the editorial office, please visit http://www.editorialmanager.com/kla and create an author profile. The online system will guide you through the steps to upload your article for submission to the editorial office.
Institutional Print & Online - $168.00
Institutional Print or Online - $120.00
Institutional Single Issue - $65.00
Individual Print & Online - $49.00
Individual Print or Online - $38.00
Individual Single Issue - $24.00
Outside US add Shipping & Handling - $19.00
Mailing List
Subscribe to our mailing list and be notified about new titles, journals and catalogs.