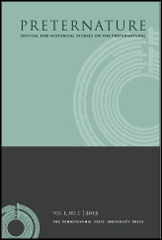 Critical and Historical Studies on the Preternatural
Debbie Felton, University of Massachusetts, United States

Biannual Publication
ISSN 2161-2196
E-ISSN 2161-2188


"My copy of the first issue just arrived; I wanted to write immediately to say how very impressed I am. It is beautiful physically and enticing intellectually, and I feel honoured to be named inside its cover. Congratulations to all of those involved!" —Diane Purkiss, Keble College, Oxford, United Kingdom
Preternature is an interdisciplinary forum for the study of the preternatural as seen in magics, witchcraft, spiritualism, occultism, prophecy, monstrophy, demonology, and folklore. The journal embraces a broad and dynamic definition of the preternatural, since the very categories of magic, religion, and science are open and active registers that the journal strives to explore, contextualize, and challenge. For more information on Preternature, click here.
In the news:
Chronicle for Higher Education
About Our Journals
Sign up for eTOCs through either JSTOR or Project MUSE!
Our journals are available electronically through JSTOR


and Project MUSE.
Penn State University Press Journals are distributed by Johns Hopkins University Press Fulfillment Services. By selecting the 'Subscribe' option, you will be redirected to the JHUP shopping cart for order processing. 'Johns Hopkins University Press' will appear on credit card statements
Pennsylvania History offers older issues via Open Access through the Office of Digital Scholarly Publishing
To contact the journals department with general questions about the program or to request article reprints, .