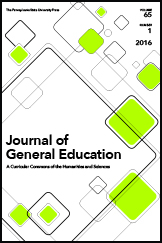 A Curricular Commons of the Humanities and Sciences
Christopher P. Long, Editor


Quarterly Publication
ISSN 0021-3667
E-ISSN 1527-2060


Journal of General Education: A Curricular Commons of the Humanities and Sciences is devoted to the ideas and ideals of scholarship that enlighten the understanding of curriculum that reaches beyond disciplinary and professional concentrations to provide an undergraduate educational commons. The journal's research, essays and reviews engage academic communities and the broader public in deliberations about general education experiments and innovation, including but not limited to the assessment, history, philosophy, and theoretical commitments of general education.
Journal of General Education: A Curricular Commons of the Humanities and Sciences distinguishes itself as a journal focused not on a scholarship of general interest to those engaged in undergraduate education writ large, but as a scholarly community interested in general education as a distinctive cornerstone of the arts of liberty that prepare citizens to live engaged, responsible, and meaningful lives.
We encourage you to engage the journal community online through our Twitter account: @JGenEdu.
About Our Journals
Sign up for eTOCs through either JSTOR or Project MUSE!
Our journals are available electronically through JSTOR


and Project MUSE.
Penn State University Press Journals are distributed by Johns Hopkins University Press Fulfillment Services. By selecting the 'Subscribe' option, you will be redirected to the JHUP shopping cart for order processing. 'Johns Hopkins University Press' will appear on credit card statements
Pennsylvania History offers older issues via Open Access through the Office of Digital Scholarly Publishing
To contact the journals department with general questions about the program or to request article reprints, .