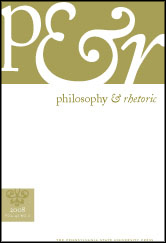 Philosophy & Rhetoric
Gerard Hauser, Editor

Quarterly Publication
ISSN 0031-8213
E-ISSN 1527-2079


"The writers who can satisfy more than one audience are all too few. Philosophy and Rhetoric provides a rare forum in which writers are encouraged to practice something more than the same old professional disabilities."
—James Crosswhite, University of Oregon
For over 40 years, Philosophy and Rhetoric has published some of the most influential articles on relations between philosophy and rhetoric. Topics include the connections between logic and rhetoric, the philosophical aspects of argumentation (including argumentation in philosophy itself), philosophical views on the nature of rhetoric among historical figures and during historical periods, philosophical analyses of the relation to rhetoric of other areas of human culture and thought, and psychological and sociological studies of rhetoric with a strong philosophical emphasis.
Editor
Gerard A. Hauser, Department of Communication, University of Colorado Boulder
Book Review Editor
Erik Doxtader, Department of English Language and Literature, University of South Carolina
Managing Editor
Jean Hauser, Boulder, Colorado
Editorial Board
Janet Atwill, University of Tennessee
Michael Bernard-Donals, University of Wisconsin-Madison
Barbara Biesecker, University of Georgia
Carole Blair, University of North Carolina
Stephen Browne, Pennsylvania State University
Leah Ceccarelli, University of Washington
Maurice Charland, Concordia University
Ralph Cintron, University of Illinois at Chicago
James Crosswhite, University of Oregon
Diane Davis, University of Texas at Austin
David Depew, University of Iowa 
Michaele Ferguson, University of Colorado Boulder
Steven Fuller, University of Warwick
Bryan Garston, Yale University
Eugene Garver, St. John's University
Elizabeth Goodstein, Emory University
Daniel M. Gross, University of California, Irvine
Glen Helman, Wabash College
Michael Hyde, Wake Forest University
Susan Jarratt, University of California, Irvine
Ralph H. Johnson, University of Windsor
Joan Leach, University of Queensland
Peter Mack, University of Warwick
Steven Mailloux, Loyola Marymount University
Michel Meyer, Université Libre de Bruxelles
David Mirhady, Simon Fraser University
Stuart Murray, Carleton University
Kelly Oliver, Vanderbilt University
John D. Peters, University of Iowa
Gary Remer, Tulane University
Diane S. Rubentein, Cornell University
Philippe Salazar, University of Cape Town
Edward Schiappa, Massachusetts Institute of Technology
Peter Simonson, University of Colorado Boulder
Christopher Tindale, University of Windsor
Frans van Eemeren, University of Amsterdam
Donald Verene, Emory University
Douglas Walton, University of Windsor
Linda Zerilli, University of Chicago
About Our Journals
Sign up for eTOCs through either JSTOR or Project MUSE!
Our journals are available electronically through JSTOR


and Project MUSE.
Penn State University Press Journals are distributed by Johns Hopkins University Press Fulfillment Services. By selecting the 'Subscribe' option, you will be redirected to the JHUP shopping cart for order processing. 'Johns Hopkins University Press' will appear on credit card statements
Pennsylvania History offers older issues via Open Access through the Office of Digital Scholarly Publishing
To contact the journals department with general questions about the program or to request article reprints, .