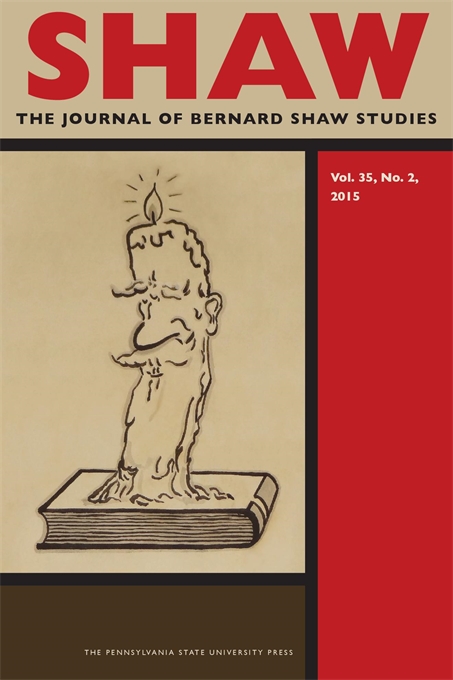 SHAW
The Journal of Bernard Shaw Studies
Christopher Wixson, Editor
SUBSCRIBE / RENEW
SHAW
The Journal of Bernard Shaw Studies
Christopher Wixson, Editor
Description

Board

Submissions

Pricing

Indexing
The author of more than sixty plays, George Bernard Shaw remains one of the best-known and most prolific Irish playwrights of the twentieth century. Known for his ability to blend social issues into his dramas, Shaw won both a Nobel Prize for Literature and an Oscar (for Pygmalion).
SHAW: The Journal of Bernard Shaw Studies is the official publication of the International Shaw Society, which seeks to "provide a means for those interested in the life, times, works, and career of Irish playwright George Bernard Shaw and his circle to organize their activities and interests, exchange information and ideas, and promote an interest in Shaw worldwide."
Editor
Christopher Wixson, Eastern Illinois University
Associate Editors
Michael O'Hara, Ball State University
Julie Sparks, San Jose State University
Bibliographer
Gustavo A. Rodríguez Martín, Universidad de Extremadura
Editorial Board
Charles Berst, University of California Los Angeles
Jennifer Buckley, University of Iowa
Leonard Conolly, Trent University
Richard F. Dietrich, University of South Florida
Ellen Dolgin, Dominican College
Bernard Dukore, Virginia Tech
Peter Gahan, Film Editor, Los Angeles
Bob A. Gaines, Auburn University at Montgomery
Anthony Matthews Gibbs, Macquarie University
Nicholas Grene, Trinity College, Dublin
Dorothy A. Hadfield, University of Waterloo
Brad Kent, Université Laval
Lagretta Tallent Lenker, University of South Florida
Audrey McNamara, University College, Dublin
Sally Peters, Wesleyan University
John R. Pfeiffer, Central Michigan University
Michel W. Pharand, Queen's University
Jean Reynolds, Polk State College
Nelson O'Ceallaigh Ritschel, Massachusetts Maritime Academy
E. Ann Saddlemyer, University of Toronto
Tony Stafford, University of Texas, El Paso
Lawrence Switzky, University of Toronto
Alfred Turco, Wesleyan University
J. P. Wearing, University of Arizona
Stanley Weintraub, The Pennsylvania State University
To submit an article to SHAW, please visit http://www.editorialmanager.com/shaw and create an author profile. The online system will guide you through the steps to upload your article for submission to the editorial office.
Institutional Print & Online - $232.00
Institutional Print or Online - $164.00
Institutional Single Issue - $87.00
Individual Print & Online - $101.00
Individual Print or Online - $71.00
Individual Single Issue - $41.00
Outside US add Shipping & Handling - $20.00
Arts & Humanities Citation Index
IBZ
MLA International Bibliography
SCOPUS