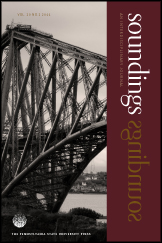 Soundings
An Interdisciplinary Journal
John Kelsay, Editor


Quarterly Publication
ISSN 0038-1861
E-ISSN 2161-6302


If "interdisciplinary" connotes anything, it should be improved communication across disciplines that foster mutual understanding. This, in turn, advances our understanding of the deeply complex ethical and moral issues facing our world today. Acknowledging the need for diversity and integrity in speaking to these issues, Soundings promotes dialogue, reflection, inquiry, discussion, and action. These activities are informed by scholarship and by the acknowledgment of the civil and social responsibilities of academe to engage the world beyond the ivory tower. Affiliated with the Society for Values in Higher Education, the journal has recently moved to Florida State University, where it is housed in the Center for Humanities and Society and edited by John Kelsay of the FSU Department of Religion.
About Our Journals
Sign up for eTOCs through either JSTOR or Project MUSE!
Our journals are available electronically through JSTOR


and Project MUSE.
Penn State University Press Journals are distributed by Johns Hopkins University Press Fulfillment Services. By selecting the 'Subscribe' option, you will be redirected to the JHUP shopping cart for order processing. 'Johns Hopkins University Press' will appear on credit card statements
Pennsylvania History offers older issues via Open Access through the Office of Digital Scholarly Publishing
To contact the journals department with general questions about the program or to request article reprints, .