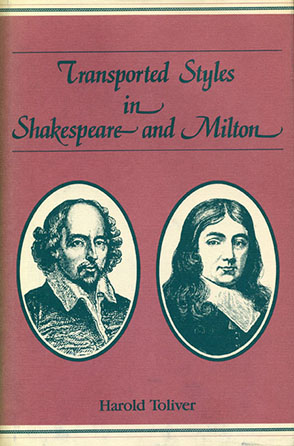 Transported Styles in Shakespeare and Milton
Harold Toliver
BUY
Transported Styles in Shakespeare and Milton
Harold Toliver
Beginning with distinctions between rhetoric and poetry, Harold Toliver examines the interplay of functional speech, assigned the task of moving plots, and poetry's sublime transport to hypothetical or second worlds and their implicit criticism of the worldly possible. The dramatist who works toward a conservative reinstatement of social order is sometimes at odds with the poetic visionary. Juxtaposing Shakespeare and Milton on that matter helps situate them within their respective Elizabethan and Puritan outlooks. In "Comus," with its numerous echoes of
A Midsummer Night's Dream
and
The Tempest
, Milton establishes significant differences between himself and Shakespeare.
Description

Bio

Subjects
Beginning with distinctions between rhetoric and poetry, Harold Toliver examines the interplay of functional speech, assigned the task of moving plots, and poetry's sublime transport to hypothetical or second worlds and their implicit criticism of the worldly possible. The dramatist who works toward a conservative reinstatement of social order is sometimes at odds with the poetic visionary. Juxtaposing Shakespeare and Milton on that matter helps situate them within their respective Elizabethan and Puritan outlooks. In "Comus," with its numerous echoes of
A Midsummer Night's Dream
and
The Tempest
, Milton establishes significant differences between himself and Shakespeare.
In developing the details of the poetry-drama tension, Toliver treats the matter of eloquence in both poetic and rhetorical excess. Othello's seeking of magnitude is half to blame for this tragedy, since it escalates the deviltry that Iago promotes. King Lear finds poetry flourishing only in helpless personal relations deprived of political authority. Failing in affairs of empire, both Antony and Cleopatra look to an alternative realm where love can proceed unhindered. Winter's Tale finds Shakespeare subduing such flights of imagination on behalf of a restored dynastic order, bringing Bohemia to Sicilia, but The Tempest poses the most radical separation of his usual two worlds, forcing Prospero to abandon the one he prefers. Milton's attempt to show providence applied to a nationalistic action in Samson Agonistes also requires freedom from normal ethical and social considerations if the Israelites are to accept their highly destructive hero as a go-between, in his enigmatic instrumentality as God's athlete.
For both Milton and Shakespeare, the more transported the language, the less it can be applied to a normal social cohesion. In both, the dramatist and the bard find at best an uneasy truce.
Harold Toliver's books include The Past That Poets Make and Lyric Provinces in the English Renaissance. He is Professor of English at the University of California at Irvine.