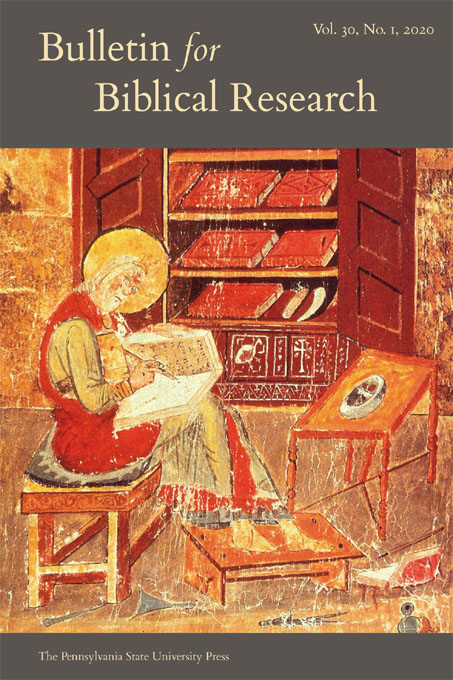 Bulletin for Biblical Research
Nijay K. Gupta, Editor
SUBSCRIBE / RENEW
Bulletin for Biblical Research
Nijay K. Gupta, Editor
Description

Board

Submissions

Pricing

Indexing
The Bulletin for Biblical Research is the journal of the Institute for Biblical Research (IBR), an organization of Christian biblical scholars. BBR publishes peer-reviewed articles in Old Testament/Hebrew Bible and New Testament and sometimes cognate literature, from a range of historical and literary approaches. A significant portion of the journal is dedicated to timely reviews of new publications on these subjects.
The Institute for Biblical Research is an organization of evangelical Christian scholars with specialties in Old and New Testament and in ancillary disciplines. The official IBR website can be found at https://ibr-bbr.org/.
Editor
Nijay K. Gupta, Northern Seminary
Associate Editors
Mark S. Gignilliat, Beeson Divinity School, Samford University
Joshua Jipp, Trinity International University
Editorial Board
George Athas, Moore Theological College
Armin D. Baum, Freie Theologische Hochschule Gießen
Lissa Wray Beal, Providence Theological Seminary
Benjamin C. Blackwell, Houston Baptist University
Craig Blomberg, Denver Seminary
Mark J. Boda, McMaster Divinity College
Max Botner, Grand Rapids Theological Seminary
Lisa Bowens, Princeton Theological Seminary, US
Diane G. Chen, Palmer Theological Seminary
Dorian Coover-Cox, Dallas Theological Seminary
Paul Davids
Peter H. Davids, Houston Baptist University
Dennis Edwards, North Park University
Rebekah Eklund, Loyola University Maryland
Ingrid Faro, Northern Seminary
David G. Firth, Trinity College Bristol
Duane A. Garrett, The Southern Baptist Theological Seminary
Timothy Gombis, Grand Rapids Theological Seminary, US
John K. Goodrich, Moody Bible Institute
Sarah Harris, Carey Baptist College
Erin M. Heim, Oxford University
Moyer V. Hubbard, Talbot School of Theology, Biola University
Daniel E. Kim, Talbot School of Theology, Biola University
Michael Kruger, Reformed Theological Seminary
Darian R. Lockett, Talbot School of theology, Biola University
Kara Lyons-Pardue, Point Loma Nazarene University
Catherine McDowell, Gordon-Conwell Theological Seminary
Ian Paul, Independent Scholar
Jonathan T. Pennington, Southern Seminary
Madison Pierce, Trinity Evangelical Divinity School
Robert L. Plummer, Southern Baptist Theological Seminary
William A. Ross, Reformed Theological Seminary (Charlotte)
Christopher W. Skinner, Loyola University Chicago
Jay Sklar, Covenant Theological Seminary
Justin Marc Smith, Azusa Pacific University
Beth M. Stovell, Ambrose University
J. Michael Thigpen, Phoenix Seminary
Editorial Assistant
Thomas Lyons, Asbury Theological Seminary
All submissions must be made through Editorial Manager. To submit, please visit http://www.editorialmanager.com/bbr and create an author profile. The online system will guide you through the steps to upload your manuscript to the editorial office.
Questions about article submissions may be sent to the editor at .
Enquiries about submitting New Testament books for review and correspondence should be sent to:
Dr. Joshua W. Jipp
E-mail:
Enquiries about submitting Old Testament books for review and correspondence should be sent to:
Dr. Mark Gignilliat
E-mail:
All essays and book reviews submitted to the Bulletin for Biblical Research must conform to the guidelines of the SBL Handbook of Style (2014).
Please note: if the submitter does not yet have their PhD, s/he must have a letter of recommendation from their dissertation supervisor noting that the supervisor has read the article and approves of its submission for our peer review process.
Institutional Print & Online - $173.00
Institutional Print or Online - $122.00
Institutional Single Issue - $39.00
Individual Print & Online - $79.00
Individual Print or Online - $57.00
Individual Single Issue - $19.00
Outside US add Shipping & Handling - $24.00
ATLA
European Reference Index for the Humanities and Social Sciences (ERIH PLUS)