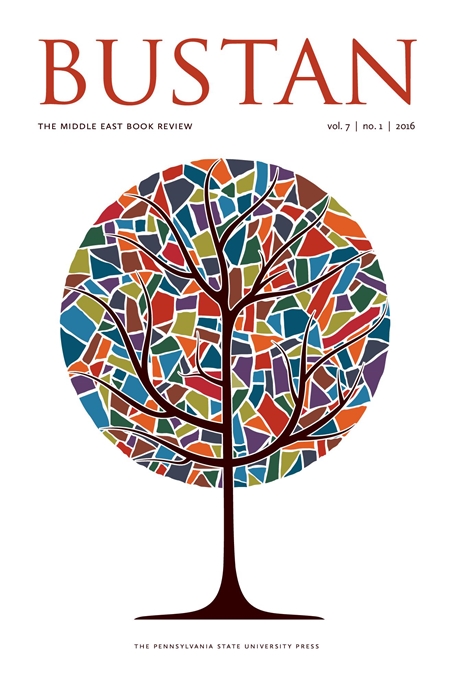 Bustan
The Middle East Book Review
Uzi Rabi, Executive Editor
Itamar Rabinovich, Executive Editor
Eyal Zisser, Executive Editor
SUBSCRIBE / RENEW
Bustan
The Middle East Book Review
Uzi Rabi, Executive Editor
Itamar Rabinovich, Executive Editor
Eyal Zisser, Executive Editor
Description

Board

Submissions

Pricing

Indexing
Bustan: The Middle East Book Review is a journal dedicated to review. Published by Moshe Dayan Center for Middle East and African Studies (MDC) at Tel Aviv University, each issue of Bustan typically includes at least three long-form review essays that review new literature. These essays explore broad themes or issues on a particular topic that go beyond the content of the books under review. The journal also includes ten to fifteen short traditional book reviews, as well as review articles in translation. The journal strives to review works in a range of languages, but the journal's content is published in English.
The Moshe Dayan Center for Middle Eastern and African Studies (MDC) is an interdisciplinary research center devoted to the study of the history and contemporary affairs of the Middle East and Africa. The MDC's research consists of analysis and assessment, and it avoids making policy recommendations. Through research, publications, conferences, archival collections, and public service, it seeks to inform civil society and promote dialogue on change and continuity in the Middle East. In doing so, the Center hopes to advance peace through understanding.
Executive Editors
Uzi Rabi, Tel Aviv University
Itamar Rabinovich, Tel Aviv University
Eyal Zisser, Tel Aviv University
Managing Editor
Brandon Friedman, Tel Aviv University
Deputy Managing Editor
Joel D. Parker, Tel Aviv University
Editorial Board
Ali Banuazizi, Boston College
Asher Susser, Tel Aviv University
Ehud R. Toledano, Tel Aviv University
Irina Zvyagelskaya, Institute of Oriental Studies, The Russian Academy of Science
Editorial Assistant
Biancamaria Vallortigara, Tel Aviv University
Bustan publishes work on all periods of Middle Eastern or Islamic Studies, and invites reviews on a broad range of topics, including (but not limited to): culture, economy, demography, geography, history, language and literature, politics, and religion. Please read the journal's author guidelines carefully before sending your submission.
To submit an article, please visit http://www.editorialmanager.com/bustan. The online system will guide you through the steps to upload your article to the editorial office.
Institutional Print & Online - $284.00
Institutional Print or Online - $194.00
Institutional Single Issue - $103.00
Individual Print & Online - $79.00
Individual Print or Online - $55.00
Individual Single Issue - $34.00
Outside US add Shipping & Handling - $12.00
ERIH PLUS (European Reference Index for the Humanities and Social Sciences)
IBZ