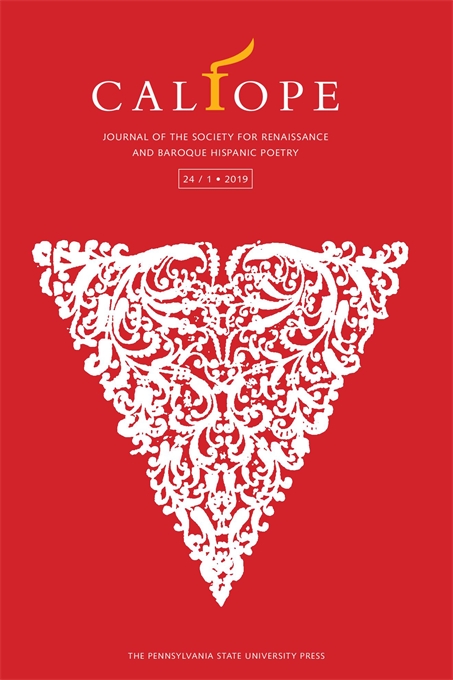 Calíope
Journal of the Society for Renaissance and Baroque Hispanic Poetry
Ignacio López Alemany, Editor
SUBSCRIBE / RENEW
Calíope
Journal of the Society for Renaissance and Baroque Hispanic Poetry
Ignacio López Alemany, Editor
Description

Board

Submissions

Pricing

Indexing
Calíope is a critical journal published by the Society for Renaissance and Baroque Hispanic Poetry and dedicated to the scholarly examination of the poetry of Spain and the Americas during the Renaissance, Baroque, and Colonial periods. Calíope is dedicated to promoting scholarship and scholarly exchange about the poetic production of the early modern Hispanic world—broadly speaking, Spain and the Spanish-speaking parts of colonial Latin America.
Editor
Ignacio López Alemany
Book Review Editors
Ignacio Garcia Aguilar
Dana C. Bultman
Editorial Board
Mary Barnard
Emilie L. Bergmann
Raquel Chang-Rodríguez
Elizabeth B. Davis
Verónica Grossi
Adrienne L. Martín
Santiago Fernández Mosquera
Inmaculada Osuna Rodríguez
Elizabeth R. Wright
Founding Editor
Julián Olivares
To submit a manuscript to Calíope, please visit http://www.editorialmanager.com/CAL. The online system will guide you through the steps to upload your article to the editorial office.
Articles
The policy of Calíope is to publish articles embodying the results of detailed original research. Essays are typically refereed anonymously by two independent academic specialists. Submissions should follow current MLA Style. Articles are usually 6,000–8,000 words in length, including footnotes, and should normally not exceed 10,000 words. Authors should include abstracts in English and Spanish of approximately 100–125 words, five keywords, and "palabras clave."
Book Reviews Calíope does not accept unsolicited book reviews. Books published in the Americas should be sent for review to Dana C. Bultman , Department of Romance Languages, 210 Herty Drive, University of Georgia, Athens, GA 30602-1815, U.S.A. Books published in Europe should be sent for review to Ignacio García Aguilar , Departamento de Literatura Española, Facultad de Filosofía y Letras, Universidad de Córdoba, Plaza Cardenal Salazar, 3. 14071, Córdoba, Spain.
Institutional Print & Online - $194.00
Institutional Print or Online - $139.00
Institutional Single Issue - $75.00
Individual Print & Online - $57.00
Individual Print or Online - $43.00
Individual Single Issue - $27.00
Outside US add Shipping & Handling - $21.00
Dialnet
EBSCO Academic Search Complete
ERIH PLUS (European Reference Index for the Humanities and Social Sciences)
Latindex (directorio)
MIAR (Matriu d'Informatico per a l'Analisi de Revistes)
MLA International Bibliography (Modern Language Association)
Scopus