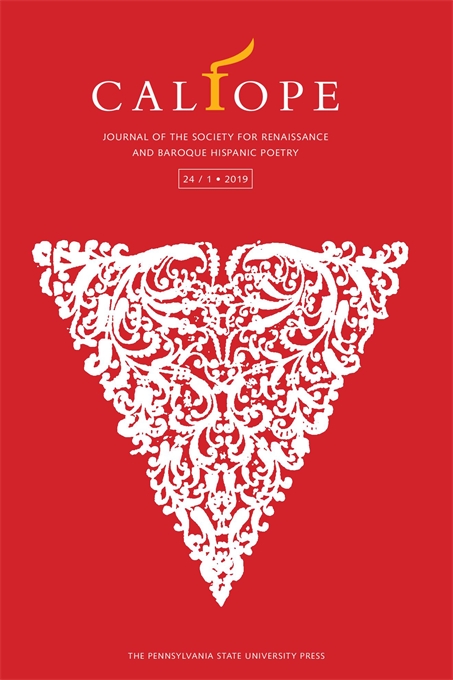 Calíope
Journal of the Society for Renaissance and Baroque Hispanic Poetry
Ignacio López Alemany, Editor
SUBSCRIBE / RENEW
Calíope
Journal of the Society for Renaissance and Baroque Hispanic Poetry
Ignacio López Alemany, Editor
Description

Board

Submissions

Pricing
Calíope is a critical journal published by the Society for Renaissance and Baroque Hispanic Poetry and dedicated to the scholarly examination of the poetry of Spain and the Americas during the Renaissance, Baroque, and Colonial periods. Calíope is dedicated to promoting scholarship and scholarly exchange about the poetic production of the early modern Hispanic world—broadly speaking, Spain and the Spanish-speaking parts of colonial Latin America.
Editor
Ignacio López Alemany
Book Review Editors
Ignacio Garcia Aguilar
Laura Bass
Editorial Board
Mary Barnard
Emilie L. Bergmann
Raquel Chang-Rodríguez
Elizabeth B. Davis
Verónica Grossi
Adrienne L. Martín
Santiago Fernández Mosquera
Inmaculada Osuna Rodríguez
Elizabeth R. Wright
Founding Editor
Julián Olivares
Please send submissions (English, Portuguese, Spanish) by electronic attachment to: Ignacio López Alemany ; 30 pp / 8,000 word max. Submissions should follow the current MLA style and include an abstract (200 words) and up to five keywords.
Institutional Print & Online - $176.00
Institutional Print or Online - $126.00
Institutional Single Issue - $68.00
Individual Print & Online - $53.00
Individual Print or Online - $40.00
Individual Single Issue - $25.00
Outside US add Shipping & Handling - $19.00