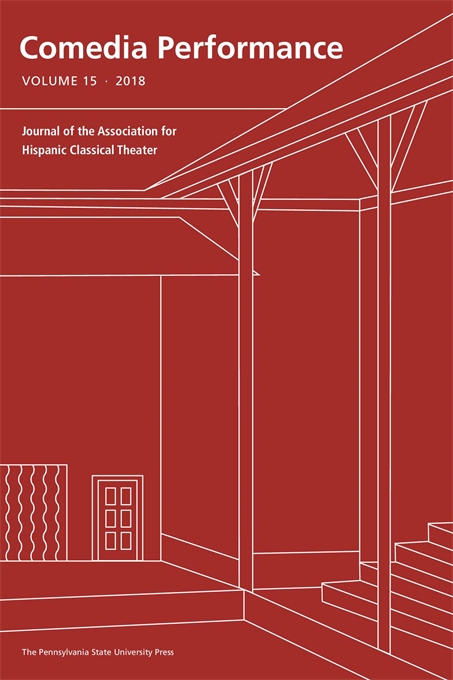 Comedia Performance
Journal of the Association for Hispanic Classical Theater
Enrique García Santo-Tomás, Editor
SUBSCRIBE / RENEW
Comedia Performance
Journal of the Association for Hispanic Classical Theater
Enrique García Santo-Tomás, Editor
Description

Board

Submissions

Pricing

Indexing
Comedia Performance publishes articles on diverse aspects of performance of the Spanish comedia and other early modern theatrical forms. Appropriate subjects for articles include, but are not limited to, historical or modern staging of the comedia, translating the comedia for the stage, performance theory, textual issues pertaining to performance, historical issues such as audience composition, corral design, costuming, blocking, set design, and spectator response. Comedia Performance does not publish text-based literary studies. The journal also publishes interviews with directors and actors, theater reviews, and book reviews.
Comedia Performance is the official journal of the Association for Hispanic Classical Theater, an international organization devoted to the study of the comedia and other forms of early modern Spanish theater. The Association counts among its members literary scholars, theatrical directors and producers, teachers, and other aficionados of Spain's Golden Age of Theater.
Editor
Enrique García Santo-Tomás, University of Michigan
Founding Editor
Barbara Mujica, Georgetown University
Performance Review Editor
Julio Vélez Sainz, Universidad Complutense
Book Review Editor
Duncan Wheeler, Leeds University
Interviews Editor
Esther Fernández, Rice University
Editorial Board
Sergio Adillo, Universidad Antonio de Nebrija
Paula Casariego Castiñeira, Università Roma Tre
Susan L. Fischer, Bucknell University, US
Barbara Fuchs, University of California, Los Angeles
Purificación García Mascarell, Universitat de València
Alejandro García-Reidy, Universidad de Salamanca
Javier Huerta Calvo, Universidad Complutense
A. Robert Lauer, University of Oklahoma
Christina Lee, Princeton University
Susan Paun de García, Denison University
Alejandra Juno Rodríguez Villar, Hanover College
Javier Rubiera, Université de Montréal
Veronika Ryjik, Villanova University
Jonathan Thacker, Oxford University
Germán Vega García Luengos, Universidad de Valladolid
Lillian von der Walde Moheno, Universidad Autónoma Metropolitana, Mexico
Elizabeth Wright, University of Georgia
To submit an article to Comedia Performance, please visit http://www.editorialmanager.com/comedia. The online system will guide you through the steps to upload your article to the editorial office.
Our mission is to highlight performance as the central aspect of theater. Although text is an essential component of the comedia, plays are written to be performed, not read. Comedia Performance strives to direct scholarly attention to this fundamental truth.
Institutional Print & Online - $218.00
Institutional Print or Online - $156.00
Institutional Single Issue - $163.00
Individual Print & Online - $81.00
Individual Print or Online - $57.00
Individual Single Issue - $62.00
Outside US add Shipping & Handling - $12.00
ERIH PLUS (European Reference Index for the Humanities and Social Sciences)