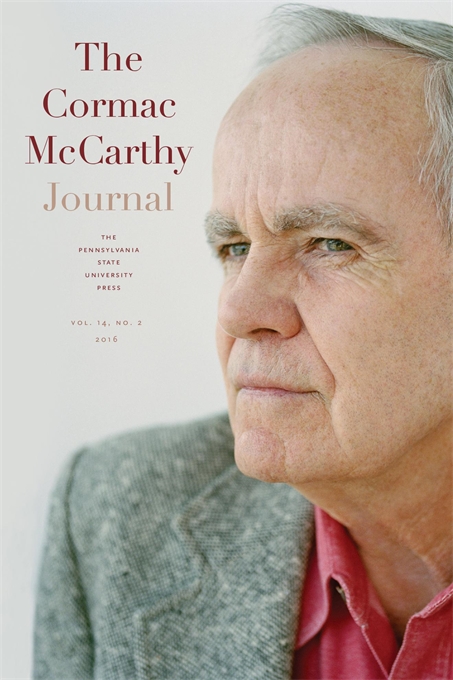 The Cormac McCarthy Journal
Stacey Peebles, Editor
SUBSCRIBE / RENEW
The Cormac McCarthy Journal
Stacey Peebles, Editor
Description

Board

Submissions

Pricing

Indexing
Cormac McCarthy
1933-2023
It is with great sadness but also with deep gratitude that we mourn the loss of Cormac McCarthy. His contributions to literature, and to our lives, have been momentous. McCarthy was one of the most notable authors of his or indeed any generation. In his long, rich life, lived in places as various as Knoxville, Santa Fe, and Ibiza, his voracious curiosity led him equally to the most abstract ideas and the most downtrodden of barflies, all the cracks and corners of human thought and experience, our endless potential for both coming together and violently wrenching apart. He never compromised his devotion to the beauty of language and the necessary art of storytelling. He leaves behind an extraordinary body of work, tapestries of character, history, philosophy, environment, and the moral questions that pull at all of us.
Stacey Peebles, President
Lydia Cooper, Vice President

The Cormac McCarthy Journal is a peer-reviewed journal focusing on the works and influence of Cormac McCarthy. The journal publishes articles, notes, and reviews related to Cormac McCarthy's novels, dramas, and screenplays, the film adaptations of his work, and other appropriate scholarly materials.
We are proud to have published these early Cormac McCarthy interviews Cormac McCarthy's Interviews in Tennessee and Kentucky, 1968–1980 in the journal! They are open access and free to read until the end of 2022. To access the interviews, please go to this link.
View the New York Times article here.
CMJ is affiliated with The Cormac McCarthy Society, which was founded in 1995 by Rick Wallach. The Society hosts regular conferences both in the United States and abroad as well as panels at the annual American Literature Association conference, publishes the journal biannually, and sends out newsletters with information about publications, events, and other materials of interest. The Society's stated purpose is "to further the scholarship and general appreciation of Cormac McCarthy's writing and to facilitate the gathering of scholars and enthusiastic lay readers alike who share a common interest in Cormac McCarthy and his work."
Editor
Stacey Peebles, Centre College, US
Associate Editor
Dustin Anderson, Georgia Southern University, US
Book Review Editor
Lydia Cooper, Creighton University, US
Editorial Board
David Cremean, Black Hills State University, US
Jonathan Elmore, Savannah State University, US
Rick Elmore, Appalachian State University, US
Steven Frye, California State University-Bakersfield, US
Nicholas Lawrence, USC Lancaster, US
Dianne C. Luce, Midlands Technical College, US
Nell Sullivan, University of Houston-Downtown, US
Bryan Vescio, High Point University, US
Rick Wallach, The Cormac McCarthy Society, US
John Wegner, Angelo State University, US
Scott Yarbrough, Charleston Southern University, US
The Cormac McCarthy Journal welcomes article-length manuscripts, no longer than 9,000 words, on themes and issues pertinent to the writings and literary environment of Cormac McCarthy.
If you would like to submit an article to The Cormac McCarthy Journal, please visit http://www.editorialmanager.com/mccarthy and create an author profile. The online system will guide you through the steps to upload your article for submission to the editorial office.
Institutional Print & Online - $229.00
Institutional Print or Online - $164.00
Institutional Single Issue - $89.00
Individual Print & Online - $83.00
Individual Print or Online - $59.00
Individual Single Issue - $36.00
Outside US add Shipping & Handling - $12.00
Emerging Sources Citation Index
European Reference Index for the Humanities and Social Sciences (ERIH PLUS)
IBZ