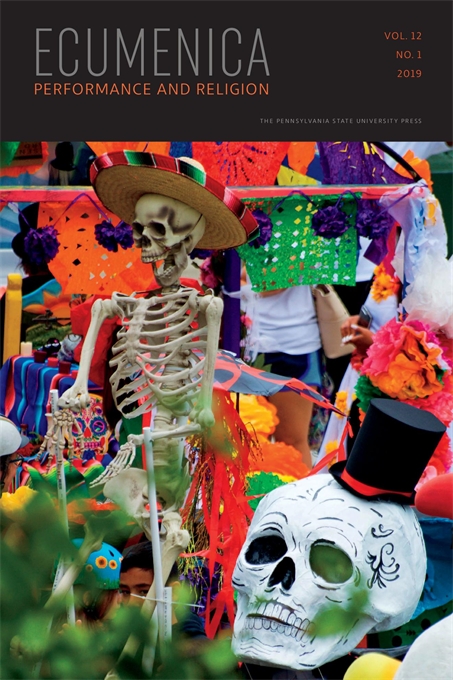 Ecumenica
Performance and Religion
David Mason, Editor
SUBSCRIBE / RENEW
Ecumenica
Performance and Religion
David Mason, Editor
Description

Board

Submissions

Pricing

Indexing
Ecumenica: Performance and Religion attends to the combination of creativity, religion, and spirituality in expressive practice. A peer-reviewed journal, Ecumenica regards performance and religion as overlapping and often mutually-constituting categories, preferring no particular form of creative expression, and privileging no particular religious tradition. The journal's very aim is to consider the variety of modes in which creative and religious impulses might be realized.
Ecumenica's interdisciplinary premise welcomes all critical approaches to such topics as performance art, theatre, ritual, contemplative and devotional practices, and expressions of community. The journal expects that performance and religion scholarship can add many more topics to this list.
The journal publishes scholarly essays, book reviews, and performance reviews, as well as interviews, plays, commentaries, and other relevant material. Ecumenica invites submissions from established and emerging scholars.
Editor
David Mason, Rhodes College
Assistant Editor
Alicia Corts, Saint Leo University
Book Review Editor
Alan Sikes, Louisiana State University
Performance Review Editor
Joy Brooke Fairfield, Rhodes College
Editorial Board
Syed Jamil Ahmed, University of Dhaka
James Brandon, Hillsdale College
Roy Brooks-Delphin, University of Georgia
Patrick Bynane, Texas Women's University
Cláudio Carvalhaes, Union Theological Seminary
Peter Civetta, Northwestern University
Carol C. Davis, Franklin & Marshall College
Donnalee Dox, Texas A&M University
Femi Euba, Louisiana State University
John Fletcher, Louisiana State University
Lance Gharavi, Arizona State University
Heather McMahon, Maryville College
Claire Pamment, College of William & Mary
Babak Rahimi, University of California, San Diego
Megan Sanborn-Jones, Brigham Young University
Purnima Shah, Duke University
Bradley Stephenson, Catawba College
Jill Stevenson, Marymount Manhattan College
Sinda K. Vanderpool, Baylor University
Andrew White, Valparaiso University
Ecumenica publishes work by established and emerging scholars, and welcomes submissions from artists and practitioners. To submit a manuscript to the editorial office, please visit https://www.editorialmanager.com/ecumenica/ and create an author profile. The online system will guide you through the steps to upload your manuscript.
General queries to the editor may be sent to .
Institutional Print & Online - $204.00
Institutional Print or Online - $146.00
Institutional Single Issue - $79.00
Individual Print & Online - $57.00
Individual Print or Online - $43.00
Individual Single Issue - $27.00
Outside US add Shipping & Handling - $12.00
ERIH PLUS (European Reference Index for the Humanities and Social Sciences)