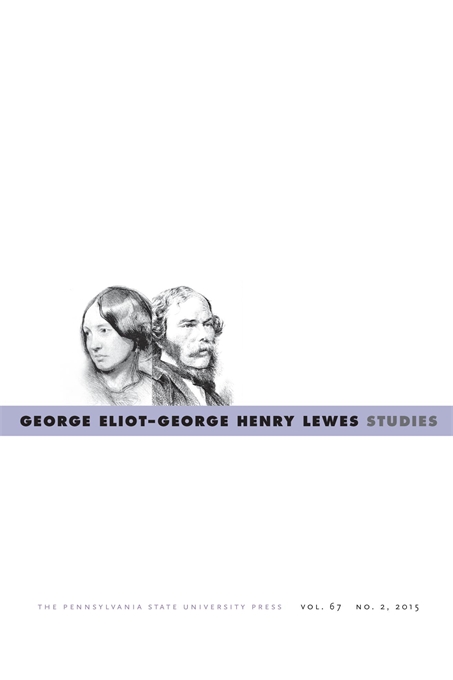 George Eliot—George Henry Lewes Studies
William Baker, Editor
Nancy Henry, Editor
SUBSCRIBE / RENEW
George Eliot—George Henry Lewes Studies
William Baker, Editor
Nancy Henry, Editor
Description

Board

Submissions

Pricing

Indexing
Since its founding as a newsletter in 1982, George Eliot-George Henry Lewes Studies has recorded scholarly communication about the life and literature surrounding the Victorians George Eliot (Mary Anne Evans), the famous author and translator, and her life partner, the noted English philosopher and critic George Henry Lewes. Since its inception more than thirty years ago, George Eliot-George Henry Lewes Studies has provided a forum for those interested and actively engaged in working with either George Eliot, George Henry Lewes, or the relationship between them and their circle. Currently, the journal publishes two issues per year.
Editors
William Baker
Nancy Henry, University of Tennessee
Editorial Board
Sophia Andres, University of Texas, Permian Basin
K. K. Collins, Southern Illinois University
James M. Decker, Illinois Central College
Fionnuala Dillane, University College, Dublin IE
Margaret Harris, The University of Sydney
Alain Jumeau, University of Paris-Sorbonne
Rick Rylance, University of London, UK
Summer Star, San Francisco State University, US
J. J. Wiesenfarth, University of Wisconsin-Madison
Kenneth Womack, Mommouth University, US
If you would like to submit an article to George Eliot-George Henry Lewes Studies, please visit http://www.editorialmanager.com/geghls and create an author profile. The online system will guide you through the steps to upload your article for submission to the editorial office.
Institutional Print & Online - $194.00
Institutional Print or Online - $139.00
Institutional Single Issue - $75.00
Individual Print & Online - $53.00
Individual Print or Online - $41.00
Individual Single Issue - $25.00
Outside US add Shipping & Handling - $12.00
Emerging Sources Citation Index
European Reference Index for the Humanities and Social Sciences (ERIH PLUS)
IBZ
MLA International Bibliography
Scopus