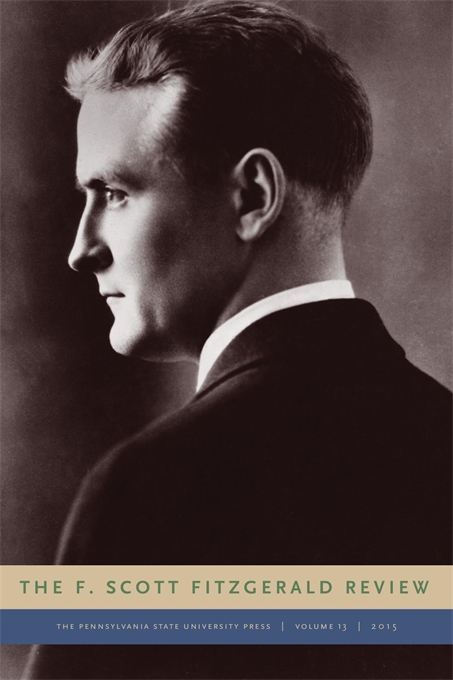 The F. Scott Fitzgerald Review
William Blazek, Editor
Jackson R. Bryer, Editor
Kirk Curnutt, Editor
Michael K. Glenday, Editor
Heidi M. Kunz, Editor
David W. Ullrich, Editor
Susan Wanlass, Editor
SUBSCRIBE / RENEW
The F. Scott Fitzgerald Review
William Blazek, Editor
Jackson R. Bryer, Editor
Kirk Curnutt, Editor
Michael K. Glenday, Editor
Heidi M. Kunz, Editor
David W. Ullrich, Editor
Susan Wanlass, Editor
Description

Board

Submissions

Pricing

Indexing
The F. Scott Fitzgerald Review publishes essays on all aspects of F. Scott Fitzgerald's life and work. The journal serves both the specialist and the general reader with essays that broaden understanding of Fitzgerald's writing and related topics. Annual issues include academic articles, book reviews, and review essays that a general reader can understand and appreciate. Roundtables on germane topics as a way to promote the exchange of ideas are also published. While the main discipline is literary studies, the journal is interdisciplinary in approach, welcoming analyses in all areas of interpretation as they apply to Fitzgerald and his times. While the centrality of The Great Gatsby is recognized, the journal is also eager to advance interest in the breadth of Fitzgerald's writing, including not only his other novels, but also his short stories, nonfiction, drama, and literary criticism.
The F. Scott Fitzgerald Review is published on behalf of F. Scott Fitzgerald Society.
Editors
William Blazek, Liverpool Hope University
Jackson R. Bryer, University of Maryland
Kirk Curnutt, Troy University Montgomery
Michael K. Glenday, Open University
Heidi M. Kunz, Randolph College
David W. Ullrich, Birmingham-Southern College
Susan Wanlass, University of California, Sacramento
Editorial Board
Ronald Berman, University of California, San Diego
Elisabeth Bouzonviller, Université Jean Monnet
Scott Donaldson, The College of William and Mary
Andrew Hook, University of Glasgow
Horst H. Kruse, University of Münster
Richard Lehan, University of California, Los Angeles
Alan Margolies, John Jay College of Criminal Justice
Kim Moreland, George Washington University
James L. W. West III, The Pennsylvania State University
Sponsors
F. Scott Fitzgerald in St. Paul
Liverpool Hope University
Troy University
If you would like to submit an article to The F. Scott Fitzgerald Review, please visit http://www.editorialmanager.com/fsfr/ and create an author profile. The online system will guide you through the steps to upload your article for submission to the editorial office.
Institutional Print & Online - $168.00
Institutional Print or Online - $120.00
Institutional Single Issue - $152.00
Individual Print & Online - $70.00
Individual Print or Online - $49.00
Individual Single Issue - $62.00
Outside US add Shipping & Handling - $18.00
Emerging Sources Citation Index
IBZ
MLA International Bibliography
Scopus
Mailing List
Subscribe to our mailing list and be notified about new titles, journals and catalogs.