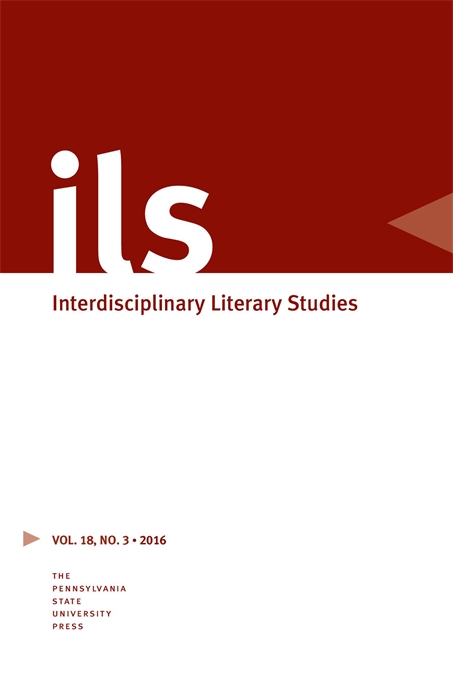 Interdisciplinary Literary Studies
A Journal of Criticism and Theory
James M. Decker, Editor
Kenneth Womack, Editor
SUBSCRIBE / RENEW
Interdisciplinary Literary Studies
A Journal of Criticism and Theory
James M. Decker, Editor
Kenneth Womack, Editor
Description

Board

Submissions

Pricing

Indexing
Interdisciplinary Literary Studies seeks to explore the interconnections between literary study and other disciplines, ideologies, and cultural methods of critique. All national literatures, periods, and genres are welcomed topics.
Editors
James M. Decker, Illinois Central College
Kenneth Womack, Mommouth University, US
Associate Editors
Todd F. Davis, Penn State Altoona
Laura E. Rotunno, Penn State Altoona
Megan Simpson, Penn State Altoona
Editorial Board
William Baker
David Bartine, SUNY Binghamton
Kirstie Blair, University of Stirling
John Brannigan, University College, Dublin
Olga Cooke, Texas A&M University
John Dern, Temple University
Nancy Easterlin, University of New Orleans
Ranjan Ghosh, North Bengal University
David Gorman, Northern Illinois University
John Kimsey, DePaul University
Peter Kitson, University of Dundee
Amy Mallory-Kani, SUNY Albany
Ian Marshall, The Pennsylvania State University Altoona
William Nelles, University of Massachusetts Dartmouth
Anna Peak, Temple University
Mohammad A. Quayum, International Islamic University Malaysia
David Rampton, University of Ottawa
Ruth Robbins, Leeds Beckett University
Elaine Treharne, Stanford University
Julian Wolfreys, University of Portsmouth
To submit a manuscript to the editorial office, please visit http://www.editorialmanager.com/interlitstudies/ and create an author profile. The online system will guide you through the steps to upload your manuscript.
All submissions must be written in English. Contributors may also propose potential subjects for review essays or interviews. Please send all manuscript submissions to the Editors through the journal's online submission and peer review system above.
Institutional Print & Online - $286.00
Institutional Print or Online - $204.00
Institutional Single Issue - $57.00
Individual Print & Online - $88.00
Individual Print or Online - $63.00
Individual Single Issue - $21.00
Outside US add Shipping & Handling - $24.00
Emerging Sources Citation Index
European Reference Index for the Humanities and Social Sciences (ERIH PLUS)
IBZ
MLA International Bibliography
Scopus