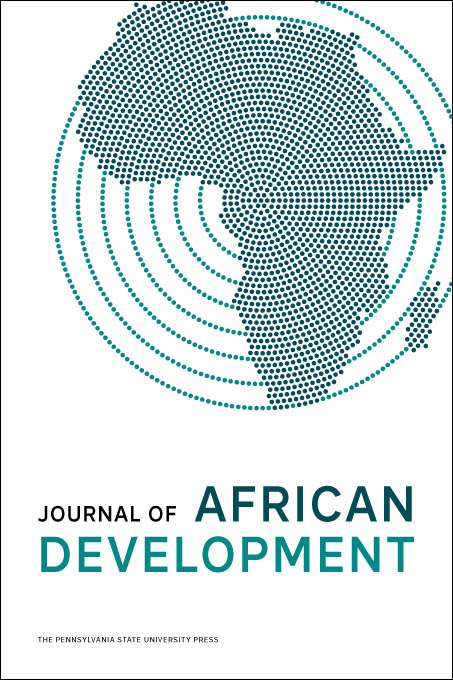 Journal of African Development
Evelyn F. Wamboye, Editor
SUBSCRIBE / RENEW
Journal of African Development
Evelyn F. Wamboye, Editor
Description

Board

Submissions

Pricing

Indexing

ToC
The Journal of African Development (JAD) was first published in 1988 as Journal of African Finance and Economic Development. It is a top ranked journal in Africa's development economics. It publishes original research papers relating to all aspects of Africa's development economics—from immediate policy concerns to structural economic and development challenges. While the emphasis is on quantitative work that is novel and relevant, groundbreaking theoretical work is highly encouraged.
Articles that take up questions on Africa's development economics that are of interest to the general readers of JAD, from both micro and macro perspectives are welcomed. Those that provide in-depth studies of a specific country, region, cross-country, industry, firm, organization(s) or cases, and whose findings are likely to be of great interest to the general readers of JAD, with attainable and specific policy recommendations, will be considered.
JAD is the official publication of the African Finance and Economic Association (AFEA). AFEA is a professional Association for academicians and practitioners (government and industry) of economics, finance, and related disciplines with scholarly, professional or other similar interests in the development of Africa. Membership in AFEA is open to individuals and organizations having an interest in the development, understanding, teaching, and application of the principles and theories of economics and finance as they relate to Africa.
Click here to subscribe or view all issues of the journal on the Scholarly Publishing Collective.
Editor
Evelyn F. Wamboye, The Pennsylvania State University
Associate Editors
Samuel Amponsah, Tokyo International University
Mina Baliamoune-Lutz, University of North Florida
Nihal Bayraktar, The Pennsylvania State University, Harrisburg
Nicola D. Coniglio, University of Bari Aldo Moro, Italy
Amirreza Kazemikhasragh, National University of Mexico
Odongo Kodongo, University of the Witwatersrand
Eduard Marinov, New Bulgarian University
Jean-Claude Maswana, Ritsumeikan University
Nicholas Mbaya Odhiambo, University of South Africa
Victor Owusu, Kwame Nkrumah University of Science and Technology
Editorial Board
Gold Kafilah 'Lola, Kwara State College of Education
Olatundun Janet Adelegan, Aalto University
John Anyanwu, African Development Bank
Abidemi Fasanmi, CDC Foundation
Bichaka Fayissa, Middle Tennessee State University
Kwabena Gyimah-Brempong, National Science Foundation
Ismael Y. Mourifié, University of Toronto
Florence Kyoheirwe Muhanguzi, Makerere University
Léonce Ndikumana, University of Massachusetts Amherst
Ikechukwu D. Nwaka, Girne American University
Gbadebo Odularu, Bay Atlantic University
Eric Evans Osei Opoku, University of Nottingham Ningbo China
Majune Kraido Socrates, University of Nairobi
John M. M. Ssozi, Baylor University
Bedassa Tadesse, University of Minnesota, Duluth
Guy Tchuente, University of Kent
Mwangi wa Githinji, University of Massachusetts-Amherst
All papers, in English, should be submitted electronically through the online submission system, Editorial Manager (EM) http://www.editorialmanager.com/JOAD. The system guides you stepwise through the process of entering your article details and uploading your files. It converts your article files to a single PDF file used in the peer-review process. Papers should have a minimum of 4,500 words and not exceed 8,000 words. Please review the Author Guidelines, available for download from the EM site, for complete submission instructions.
The journal operates a double-blind review process. All contributions will be initially assessed by the editor for suitability for the journal. Papers deemed suitable are then typically sent to a minimum of two independent expert reviewers to assess the scientific quality of the paper. The editor is responsible for the final decision regarding acceptance or rejection of articles. The editor's decision is final.
JAD charges a submission fee of US$ 50.00. This fee is non-refundable and cannot be waived under any circumstances. The submission fee will not be refunded if a manuscript is rejected by the editors without being sent for review, if it is inconsistent with the journal's aims and scope, or does not adhere to the style requirements as outlined in the Guide for Authors document. The submission fee, which is different from a publication fee or article processing charge (APC) is used to offset costs of producing JAD.
Institutional Print & Online - $208.00
Institutional Print or Online - $141.00
Institutional Single Issue - $80.00
Individual Print & Online - $59.00
Individual Print or Online - $44.00
Individual Single Issue - $28.00
Outside US add Shipping & Handling - $12.00
European Reference Index for the Humanities and Social Sciences (ERIH PLUS)
Scopus
FORTHCOMING TABLE OF CONTENTS

Vol. 25, No. 1 (2024)

Input Subsidies and Women Entrepreneurship: Evidence from Tanzania
Rehema Mussa Karata and Christian Otchia

Comparing Agricultural Industry Impacts on the National Economy: An Analytical Approach for Policymakers
Peter Goldsmith, Sandy Dall'Erba, and Elizabeth Venable

The Role of Time Zone Differences on Bilateral Service Flows from Kenya
Socrates Kraido Majune, John Gathiaka Kamau, and Michael Ndwiga

Procuring for Pandemics Through Joint Procurement Association in the European Union: Lessons for Southern African Development Community (SADC) and East African Community
Alex Nduhura, John Paul Settumba, Paul Wanume, MT Lukamba, Thekiso Molokwane, and Costa Hofisi

Migration and Remittances in Senegal: Effect on Households Members Left Behind
Ameth Saloum Ndiaye and Abdelkrim Araar