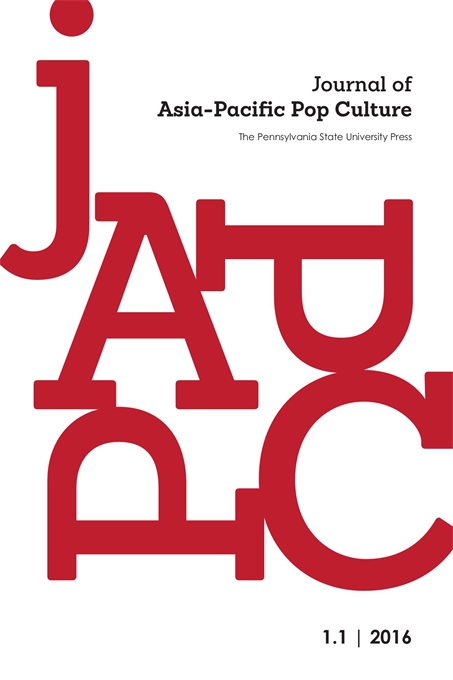 Journal of Asia-Pacific Pop Culture
Adam Geczy, Editor
Vicki Karaminas, Editor
Paul Mountfort, Editor
SUBSCRIBE / RENEW
Journal of Asia-Pacific Pop Culture
Adam Geczy, Editor
Vicki Karaminas, Editor
Paul Mountfort, Editor
Description

Board

Submissions

Pricing

Indexing
The Journal of Asia-Pacific Pop Culture (JAPPC) is a peer-reviewed journal with an international focus and is devoted to the study of popular culture and the context of the everyday in the Asia-Pacific and Oceania regions. It offers a broad range of scholarly material about many popular culture areas including visual arts, fashion, film, cartoons, fandom, biography, entertainment, gender and media.
It is the official journal of the Popular Culture Association of Australia, Asia, and New Zealand (PopCAANZ).
The association is devoted to the scholarly understanding of everyday cultures and aims to promote this understanding, broadly conceived, in the Asia-Pacific and Oceania regions and beyond by bringing together academics, students and practitioners from the field of popular culture through the establishment and promotion of conferences, exhibitions, publications, public forums and discussions.
Editors
Adam Geczy, The University of Sydney
Vicki Karaminas, Massey University Wellington
Paul Mountfort, Auckland University of Technology
Managing Editor
Aleksandr Andreas Wansbrough, The University of Sydney
Book And Exhibition Editors
Vanessa Gerrie, Massey University Wellington
Justine Taylor, Massey University Wellington
Editorial Board
Jill Adams, Central Queensland University
Daniel Binns, RMIT University
Anita Brady, Victoria University of Wellington
Vishna Collins, UNSW Art & Design
Simone Douglas, Parsons School of Design, The New School University
Rachel Franks, State Library of New South Wales
Steven Gil, University of Queensland
Lyn Hicks, Macquarie University
Rosser Johnson, Auckland University of Technology
Lorna Piatti-Farnell, Auckland University of Technology
Anne Pierson-Smith, City University, Hong Kong
Julieanna Preston, Massey University, Wellington
Holly Randell-Moon, University of Otago
Editorial Advisory Board
Brad Buckley, The University of Melbourne
Patrizia Calefato, Università degli Studi di Bari, Italy
Rey Chow, Duke University
Pamela Church Gibson, London College of Fashion, University of the Arts
Hazel Clark, Parsons School of Design, The New School
Timothy Corrigan, University of Pennsylvania
Mary Gluck, Brown University
Jack Halberstam, University of Southern California
David Halperin, University of Michigan
Dick Hebdige, University of California, Santa Barbara
John A Lent, Publisher/Editor-in-Chief, The International Journal of Comic Arts
Angela McRobbie, Goldsmiths, University of London
Sally Morgan, Massey University
Meaghan Morris, The University of Sydney
Hilary Radner, University of Otago
Claire Robinson, Massey University
Nicholas Rombes, University of Detroit, Mercy
Catherine Spooner, Lancaster University
Karen Tongson, University of Southern California
Jakelin Troy, The University of Sydney
Editorial Assistant
Markela Panegyres, University of Sydney
JAPPC encourages authors to submit unsolicited articles and comprehensive review essays. All academic articles should be approximately 5-8000 words long. An abstract of approximately 150 words must accompany each manuscript. All articles and comprehensive review essays will be peer-reviewed.
Authors interested in contributing short review essays (of two to five recent works) and ideas for round-table discussions should contact the editors before submitting a manuscript. Short review essays and round-table comments, which are not peer reviewed, should be approximately 1,500 to 3,000 words in length. Abstracts should be no more than 50 words long.
If you would like to submit an article to JAPPC, please visit http://www.editorialmanager.com/jappc and create an author profile. The online system will guide you through the steps to upload your article for submission to the editorial office.
Institutional Print & Online - $185.00
Institutional Print or Online - $132.00
Institutional Single Issue - $71.00
Individual Print & Online - $57.00
Individual Print or Online - $43.00
Individual Single Issue - $27.00
Outside US add Shipping & Handling - $21.00
Emerging Sources Citation Index
ERIH PLUS (European Reference Index for the Humanities and Social Sciences)
IBZ