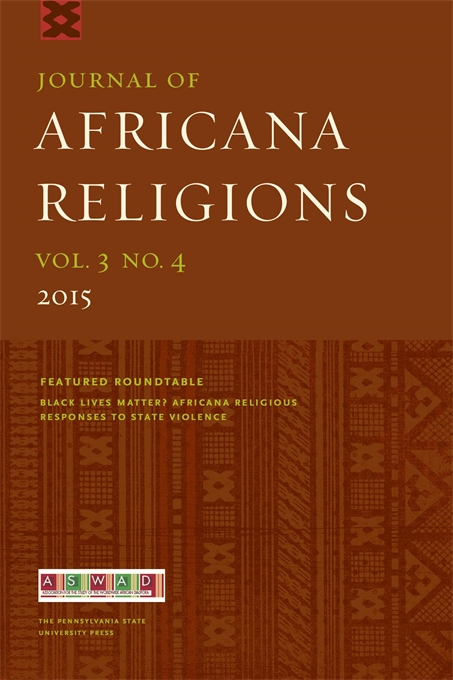 Journal of Africana Religions
Edward E. Curtis IV, Editor
Sylvester A. Johnson, Editor
SUBSCRIBE / RENEW
Journal of Africana Religions
Edward E. Curtis IV, Editor
Sylvester A. Johnson, Editor
Description

Board

Submissions

Pricing

Indexing
The Journal of Africana Religions publishes critical scholarship on Africana religions, including the religious traditions of African and African Diasporic peoples as well as religious traditions influenced by the diverse cultural heritage of Africa. An interdisciplinary journal encompassing history, anthropology, Africana studies, gender studies, ethnic studies, religious studies, and other allied disciplines, the Journal of Africana Religions embraces a variety of humanistic and social scientific methodologies in understanding the social, political, and cultural meanings and functions of Africana religions.
The chronological scope of the journal is comprehensive and invites research into the history of Africana religions from ancient to contemporary periods. The journal's geographical purview is global and comprises Africa, the Americas, Asia, the Atlantic islands (such as Cape Verde and São Tomé), the Caribbean, and Europe. The journal is particularly concerned with publishing research on the historical connections and ruptures involved in the spread of Africana religions from within and beyond Africa. Emphasizing the historical movement or spread of Africana religions and the dynamic transformations they have undergone underscores the nuanced, complex history of these religions and transcends the essentializing gestures that have hindered previous generations of scholarship. For this reason, we encourage authors to examine multiple dimensions of Africana religions, including the relationship between religion and empire, slavery, racism, modern industrial capitalism, and globalization.
Find Journal of Africana Religions on Facebook! And follow JOAR on Twitter!
The journal is co-sponsored by the Association for the Study of the Worldwide African Diaspora. Additional institutional sponsors of the journal include Northwestern University and the Indiana University School of Liberal Arts at IUPUI. The journal's editorial offices are currently located at IUPUI Department of Religious Studies, Cavanaugh 335, 425 University Blvd., Indianapolis, IN 46202.
Editors
Edward E. Curtis IV, Indiana University Purdue University Indianapolis
Sylvester A. Johnson, Virginia Tech University
Managing Editor
Jeremy Rehwaldt, Midland University
Editorial Board
Afe Adogame, Princeton Theological Seminary
David Amponsah, University of Missouri
Stephen Angell, Earlham School of Religion
Herman Bennett, The Graduate Center, CUNY
Joan C. Bristol, George Mason College
Ras Michael Brown, Southern Illinois University
David Chidester, University of Cape Town
Yvonne Chireau, Swarthmore College
Musa Dube, University of Botswana
Carol B. Duncan, Wilfrid Laurier University
Cécile Fromont, University of Chicago
Michael Gomez, New York University
Rachel E. Harding, University of Colorado Denver
Kelly Hayes, Indiana University Purdue University Indianapolies
Tracey Hucks, Tufts University
Elana Jefferson-Tatum, Tufts University
Paul C. Johnson, University of Michigan
Charles H. Long, University of California, Santa Barbara
Aisha Mahina Beliso-De Jesús, Harvard University
Adeline M. Masquelier, Tulane University
Elizabeth McAlister, Wesleyan University
Jacob Olupona, Harvard University
Elizabeth Pérez, University of California, Santa Barbara
Anthony B. Pinn, Rice University
Rüdiger Seesemann, University of Bayreuth
Jon Sensbach, University of Florida
Dianne M. Stewart, Emory University
Emille M. Townes, Vanderbilt Divinity School
Richard Brent Turner, University of Iowa
Nicole von Germeten, Oregon State University
Judith Weisenfeld, Princeton University
Cornel R. West, Harvard University
Vincent L. Wimbush, Claremont Graduate University
Jason R. Young, University of Michigan
Call for Papers: Disability in Africana Religions
How do African, African diasporic, and African American religious actors understand and approach physical and cognitive difference, understood broadly to include but not be limited to such examples as addiction, albinism, deafness, HIV, obesity, schizophrenia, and traumatic brain injury? Is physical or cognitive difference constituted and experienced as impairment, gift, divine punishment, blessing, impurity, danger, and/or social good? How do Africana religious institutions, material cultures, ethics, doctrines, narratives, and rituals address these questions? Has it stayed the same or changed over time? All essays should utilize an Africana purview (that includes both Africa and the diaspora) in their responses. Current research on disability in Africana religions sometimes confines itself to addressing a Black or African population in a nation-state or a region. How does the translocal framework of Africana religions produce new knowledge and new perspectives? This round table will feature essays of up to 3,000 words. Scholars interested in participating should submit a 150-word proposal to the editors of the Journal of Africana Religions via email at by May 30, 2018. The final deadline for the submission of completed essays will be August 30, 2018.
--------------------------
Call for Papers: Journal of Africana Religions Round Table
'Orienting' Africana Religious Studies: East African and Indian Ocean Perspectives
Devaka Premawardhana, Guest Editor
Scholarship on East Africa has generated valuable insights into topics central to Africana religious studies, topics such as diaspora and migration, slavery and colonialism, orality and textuality, race and ethnicity, contact and encounter, women and gender, resistance and resilience—all as they connect to religion. Yet, given the predominance of the transatlantic in Africana studies generally (the centrality, for example, of the "black Atlantic" framework), empirical support for and theoretical reflection on Africana religious studies have tended to privilege regions surrounding the Atlantic Ocean: West Africa, North and South America, and the Caribbean. It is perhaps unfair to associate this geographic orientation with the Euro-American academy's deep-seated "western" bias, but there is no question that the eastern shore of the African continent has thus far, with some exceptions, been peripheral to Africana religious studies as a field. There is no good reason for this given that the transatlantic slave trade involved also East African populations. Moreover, well before the arrival of Europeans and up to the present, East Africans migrated and interacted within the continent, Arab and Asian influences manifest along what came to be called the Swahili coast, and African diasporas spread across the Indian Ocean.
The aim of this roundtable, to be published as a collection of short (1,500-3,000 word) essays, is to bring East African perspective to bear on Africana religious studies. Presuming that the transnational and translocal priorities of Africana studies pertain to East Africa no less than they do to regions better covered, the roundtable will gather issues, questions, theories, and concepts emerging from East Africa, the Swahili coast, and/or the Indian Ocean that potentially shed new light on the study of Africana religions. It is anticipated that the theme of encounter—between regions and between religions—will run through most essays, finding expression in such topics as: religious identity at the intersection of two or more religious cultures (Islamic, Christian, indigenous, and even Asian); the long history of Arab and Islamic influence on African religions, cultures, and languages; the place of religion(s) in the region's precolonial, colonial, and postcolonial periods; religiously themed scholarship and literature on and from the region; and diasporic encounters beyond Africa's eastern shores. This is just a sampling of the kinds of topics welcome; many others could be named. However framed and however focused, contributions should highlight the significance of religion among African-descended people in East Africa or the wider Indian Ocean, and should be grounded in research or reflections pertaining specifically to at least one segment of this dynamic regional complex.
All those interested in contributing should submit a 150-word proposal to by April 15, 2018. Final drafts of essays are due on August 15, 2018.
--------------------------
If you would like to submit an article to JOAR please visit http://www.editorialmanager.com/joar/ and create an author profile. The online system will guide you through the steps to upload your article for submission to the editorial office.
The journal encourages authors to submit unsolicited articles and comprehensive review essays. All academic articles should be approximately 8,000-10,000 words long. Comprehensive review essays should be about 5,000 words in length. An abstract of approximately 150 words must accompany each manuscript. All articles and comprehensive review essays will be peer-reviewed.
Authors interested in contributing short review essays (of two to five recent works) and ideas for round-table discussions should contact the editors before submitting a manuscript. Short review essays and round-table comments, which are not peer reviewed, should be approximately 1,500 to 3,000 words in length. Abstracts should be no more than 50 words long. All manuscripts must follow the current edition of the Chicago Manual of Style. Manuscripts must be submitted as a Microsoft Word document (Times New Roman font, size 12, flush left, double spaced). Citations should be in endnotes.
Materials submitted to the Journal of Africana Religions (JOAR) must not have been previously published nor submitted for publication elsewhere while under review by JOAR editors. Questions may be sent to the editor at .
Institutional Print & Online - $233.00
Institutional Print or Online - $160.00
Institutional Single Issue - $87.00
Individual Print & Online - $70.00
Individual Print or Online - $49.00
Individual Single Issue - $33.00
Outside US add Shipping & Handling - $18.00
Emerging Sources Citation Index
IBZ
Scopus
Mailing List
Subscribe to our mailing list and be notified about new titles, journals and catalogs.