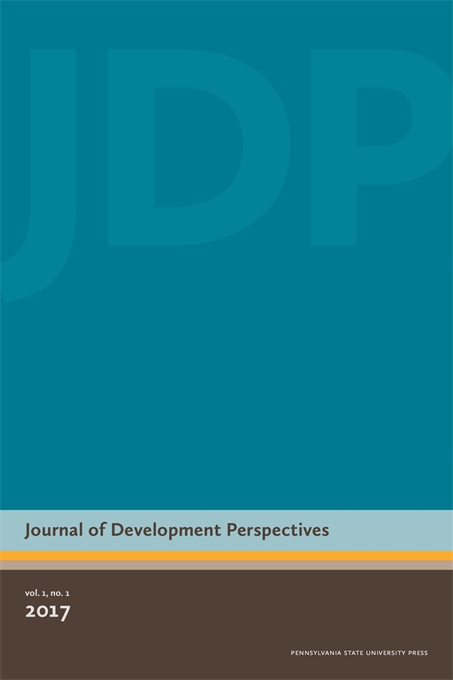 Journal of Development Perspectives
Johannes Fedderke, Editor
SUBSCRIBE / RENEW
Journal of Development Perspectives
Johannes Fedderke, Editor
Description

Board

Submissions

Pricing
Challenges of economic and social development are, by their nature, diverse. They cover the coordination of action through social and political institutions, as well as actions of individuals and of organizations. Its welfare dimensions are also broad, ranging from narrowly defined economic interests to broader conceptions of human progress. Constraints and enabling mechanisms arise from both human agency, and the environment within which humans exercise their agency. Inevitably, this means that a range of disciplines are relevant to scholars interested in development, from the social sciences such as economics, political science, and sociology, through management disciplines, and an ever-increasing set of the natural sciences, from genetics to environmental sciences and beyond. Following relevant progress across such a wide array of disciplines, each with their specific sets of methodologies and styles of presenting evidence and assessing its robustness, is non-trivial in and of itself, and made more challenging by ever-increasing specialization in each area of enquiry.
The Journal of Development Perspectives intends to provide an opportunity for scholars interested in development to contribute to improved communication across disciplines. It does so by providing a platform both for the publication of new research findings presented in a manner accessible to a generalist audience, and by actively encouraging synoptic assessments of the state of knowledge in areas of interest to scholars of development. In doing so, it invites contributions from all disciplines that are relevant to development questions.
Editor
Johannes Fedderke, The Pennsylvania State University
Editorial Board
Biniam Bedasso, Princeton University
John Luiz, University of Sussex
Elizabeth Ransom, The Pennsylvania State University
Mare Sarr, The Pennsylvania State University
Kaj Thomsson, University of Maastricht
Nicola Viegi, University of Pretoria
Articles are normally solicited by the editors of the journal, though proposals for topics can be directed to the journal office.
If you would like to submit an article to Journal of Development Perspectives, please visit http://www.editorialmanager.com/jdp and create an author profile. The online system will guide you through the steps to upload your article for submission to the editorial office.
Institutional Print & Online - $198.00
Institutional Print or Online - $149.00
Institutional Single Issue - $76.00
Individual Print & Online - $59.00
Individual Print or Online - $44.00
Individual Single Issue - $28.00
Outside US add Shipping & Handling - $12.00