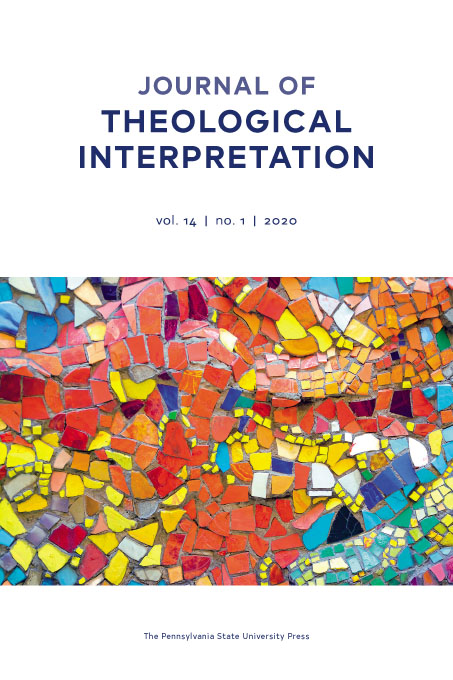 Journal of Theological Interpretation
Tim Meadowcroft, Editor in Chief
SUBSCRIBE / RENEW
Journal of Theological Interpretation
Tim Meadowcroft, Editor in Chief
Description

Board

Submissions

Pricing

Indexing
Critical biblical scholarship as developed and defined since the mid-eighteenth century has played a significant and welcome role in pressing us to take biblical texts seriously on their own terms and diverse contexts. With the postmodern turn, additional questions have surfaced—including the theological and ecclesial location of biblical interpretation, the significance of canon and creed for biblical hermeneutics, the historical reception of biblical texts, and other more pointedly theological interests. How might we engage interpretively with the Christian Scriptures so as to hear and attend to God's voice? The Journal of Theological Interpretation aims to serve these agendas.
Editor in Chief
Tim Meadowcroft, Laidlaw College, NZ
Associate Editor
Amy Peeler, Wheaton College, US
Editorial Board
Khaled Anatolios, University of Notre Dame, US
John Behr, University of Aberdeen, GB
Craig A. Carter, Tyndale University, CA
Ivor J. Davidson, University of Aberdeen, GB
Michael J. Gorman, St. Mary's Seminary, US
Mary E. Healy, Sacred Heart Major Seminary, US
Erin M. Heim, Oxford University, UK
Joshua W. Jipp, Trinity Evangelical Divinity School, US
Joanna Leidenhag, University of Leeds, GB
Matthew Levering, University of Saint Mary of the Lake Mundelein Seminary, US
Bo H. Lim, Seattle Pacific University, US
Grant Macaskill, University of Aberdeen, GB
Elizabeth Mburu, Africa International University, KE
Greg McKinzie, Fuller Theological Seminary, US
Walter Moberly, Durham University, GB
Murray Rae, University of Otago, NZ
Darren Sarisky, Australian Catholic University, AU
Dan R. Stiver, Hardin-Simmons University, US
Brent A. Strawn, Duke University, US
Gabrielle Thomas, Emory University, US
Founding Editor
Joel B. Green, Fuller Theological Seminary, US
To submit an article, please visit http://www.editorialmanager.com/ti. The online system will guide you through the steps to upload your article to the editorial office.
JTI is now well established as a leading journal at the interface of Theology and Biblical Studies. We welcome submissions of articles that engage in the theological interpretation of Scripture.
Submissions should be double-spaced, and include: an abstract of no more than 250 words; a list of no more than ten keywords; and a brief author biography.
Use footnotes; all notes, like the text, should be double-spaced. Bibliographies and reference lists are not allowed.
The essay should not include the name of the author, nor any self-reference to the author, whether in the body of the essay or in its end- or footnotes. (For example, statements such as "See my essay...," or "As I have argued in...," should appear nowhere in the essay.)
Essays of 7500 words or less, inclusive of notes, are given priority. No essay should exceed 10,000 words, including notes.
On other issues of style, consult The SBL Handbook of Style for Biblical Studies and Related Disciplines, 2nd ed. (Atlanta: SBL Press, 2014).
All inquiries should be directed to the Editors: .
Institutional Print & Online - $180.00
Institutional Print or Online - $128.00
Institutional Single Issue - $77.00
Individual Print & Online - $49.00
Individual Print or Online - $37.00
Individual Single Issue - $24.00
Outside US add Shipping & Handling - $12.00
ATLA
Emerging Sources Citation Index
European Reference Index for the Humanities and Social Sciences (ERIH PLUS)