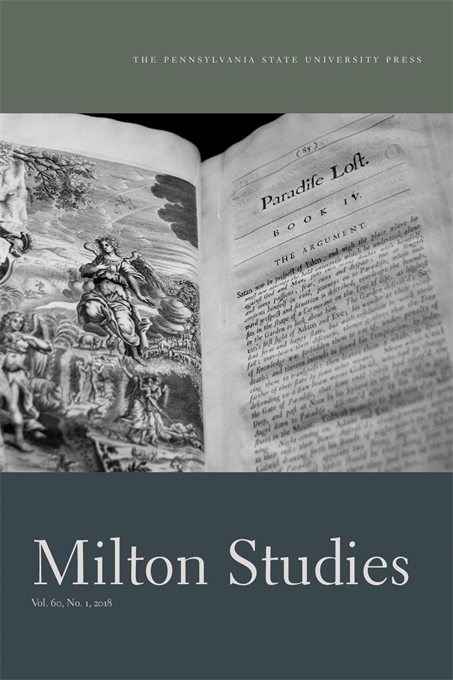 Milton Studies
Stephen B. Dobranski, Editor
SUBSCRIBE / RENEW
Milton Studies
Stephen B. Dobranski, Editor
Description

Board

Submissions

Pricing

Indexing
Milton Studies is published biannually as a forum for scholarship on John Milton (1608-74), using a range of approaches and methodologies to elucidate the life and works of the influential poet and polemicist. Essays submitted for publication may focus on any aspect of Milton's life and writing, including biography; literary history; Milton's work in its literary, intellectual, political, or cultural contexts; Milton's influence on or relationship to other writers; or the history of critical and creative response to his work. Target audience includes graduate students and literary scholars who specialize in Milton or in early modern (Renaissance) literature, as well as (secondarily) historians and literary historians of early modern religion, politics, and cultural history.
Editor
Stephen B. Dobranski, Georgia State University
Editorial Board
Sharon Achinstein, Johns Hopkins University
Ann Baynes Coiro, Rutgers University
Thomas N. Corns, Bangor University
Karen Edwards, University of Exeter
Stephen M. Fallon, University of Notre Dame
Stanley Fish, Florida International University
Estelle Haan, Queen's University, Belfast
Maggie Kilgour, McGill University
Laura L. Knoppers, University of Notre Dame
David Loewenstein, Pennsylvania State University
Catherine Gimelli Martin, University of Memphis
Nicholas McDowell, University of Exeter
Feisal Mohamed, Yale University
John Rogers, University of Toronto, St. George Campus
Jason Rosenblatt, Georgetown University
John Rumrich, University of Texas, Austin
Elizabeth Sauer, Brock University
Lauren Shohet, Villanova University
Nigel Smith, Princeton University
Paul Stevens, University of Toronto, St. George Campus
If you would like to submit an article to Milton Studies, please visit http://www.editorialmanager.com/miltonstudies and create an author profile. The online system will guide you through the steps to upload your article for submission to the editorial office. Manuscripts should conform to The Chicago Manual of Style and be approximately 8,000-12,000 words in length. Authors should include an abstract of the essay.
Institutional Print & Online - $204.00
Institutional Print or Online - $146.00
Institutional Single Issue - $79.00
Individual Print & Online - $114.00
Individual Print or Online - $83.00
Individual Single Issue - $47.00
Outside US add Shipping & Handling - $12.00
Arts & Humanities Citation Index
European Reference Index for the Humanities and Social Sciences (ERIH PLUS)