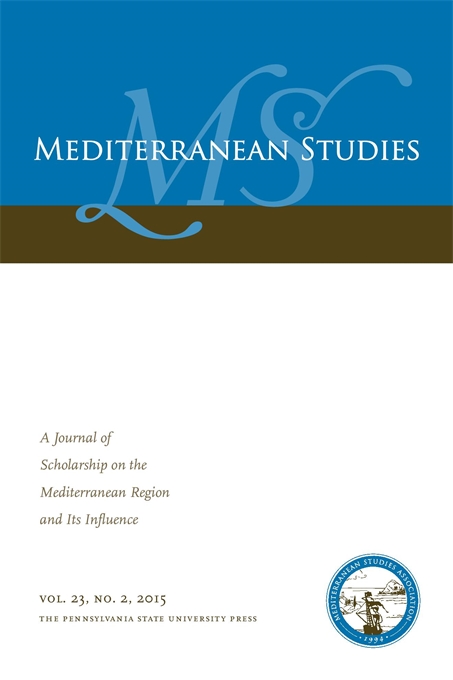 Mediterranean Studies
Susan L. Rosenstreich, Editor
SUBSCRIBE / RENEW
Mediterranean Studies
Susan L. Rosenstreich, Editor
Description

Board

Submissions

Pricing

Indexing
Mediterranean Studies is an international, peer-reviewed journal focusing on the Mediterranean region in all aspects and disciplines. The journal's interdisciplinary approach is particularly concerned with the ideas and ideals of Mediterranean cultures from antiquity to the present and the influence of these ideas beyond the region's geographical boundaries. Such varied and rich contributions make for vibrant conversations across several disciplines.
Mediterranean Studies is the official publication of the Mediterranean Studies Association.
Editor
Susan L. Rosenstreich, Dowling College
Book Review Editor
Eric Dursteler, Brigham Young University
Editorial Board
Luigi Andrea Berto, Western Michigan University
Geraldo de Sousa, University of Kansas
Claudia Esposito, University of Massachusetts, Boston
J. David Jerez-Gómez, California State University, San Bernardino
Caroline Jewers, University of Kansas
Stelios Panayotakis, University of Crete
Darryl Phillips, Connecticut College
Susan O. Shapiro, Utah State University
Vaios Vaiopoulos, Ionian University, Greece
John Watkins, University of Minnesota
Past Editor
Richard Clement, Utah State University
For detailed submission information, please see the guidelines on the Association's Web site. To submit a manuscript to the editorial office, please visit http://www.editorialmanager.com/ms/ and create an author profile. The online system will guide you through the steps to upload your manuscript.
Institutional Print & Online - $215.00
Institutional Print or Online - $153.00
Institutional Single Issue - $83.00
Individual Print & Online - $68.00
Individual Print or Online - $48.00
Individual Single Issue - $30.00
Outside US add Shipping & Handling - $21.00
Emerging Sources Citation Index
ERIH PLUS (European Reference Index for the Humanities and Social Sciences)
IBZ
MLA International Bibliography
Scopus