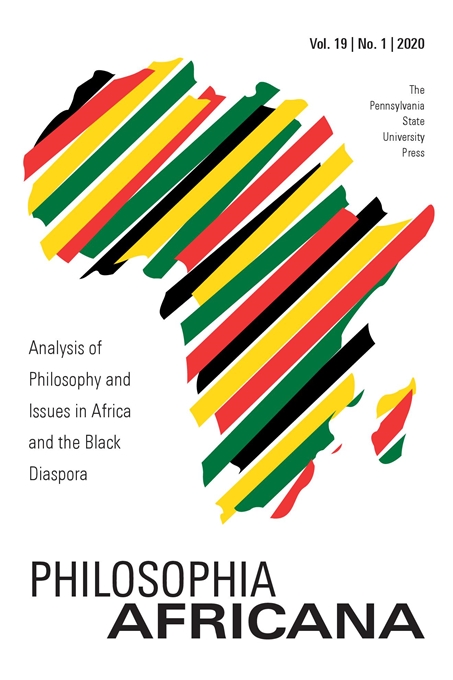 Philosophia Africana
Analysis of Philosophy and Issues in Africa and the Black Diaspora
Kibujjo M. Kalumba, Editor in Chief
SUBSCRIBE / RENEW
Philosophia Africana
Analysis of Philosophy and Issues in Africa and the Black Diaspora
Kibujjo M. Kalumba, Editor in Chief
Description

Board

Submissions

Pricing

Indexing
Philosophia Africana publishes peer-reviewed academic philosophical or philosophically interdisciplinary works that explore pluralistic experiences of Africa and the Black Diaspora from both universal and comparative points of view.
It also selectively publishes original or critical interpretations of creative and artistic works revealing vibrant intellectual cultures of modern Africa, the Black Diaspora, and other universally inclusive traditions of thought.
Editor in Chief
Kibujjo M. Kalumba, Ball State University, USA
Associate Editors
Jane Duran, University of California at Santa Barbara, USA
Joseph Isanga, Concordia University, USA
Book Review Editor
Bernard Matolino, University of KwaZulu-Natal, South Africa
Editorial Board
Laurence Bamikole, The University of the West Indies, Jamaica
Edwin Etieyibo, University of the Witwatersrand, South Africa
Katherine M. Faull, Bucknell University, USA
Bruce Janz, University of Central Florida, USA
Matthias Kaufmann, Martin-Luther-Universitat Halle-Wittenberg, Germany
Andrej Krause, Martin-Luther-Universitat Halle-Wittenberg, Germany
Helen Lauer, University of Dar-es-Salaam, Tanzania
Thaddeus Metz, University of Johannesburg APK, South Africa
Mabogo Percy More, University of Limpopo, South Africa
Frederick Ochieng-Odhiambo, The University of the West Indies, Barbados
J. Obi Oguejiofor, Namdi Azikiwe University, Nigeria
Uchenna Okeja, Rhodes University, South Africa
Oritsegbubemi Oyowe, University of the Western Cape, South Africa
George Yancy, Emory University, USA
Naomi Zack, University of Oregon, USA
If you would like to submit an article to Philosophia Africana, please visit https://www.editorialmanager.com/philafricana and create an author profile. The online system will guide you through the steps to upload your article for submission to the editorial office. Manuscripts should be double-spaced with ample margins, and accompanied by an abstract of 100–150 words.
Inquiries about submissions should be addressed to the editor:
Prof. Kibujjo Kalumba
Editor-in-Chief, Philosophia Africana
Department of Philosophy and Religious Studies
Ball State University
Muncie, IN 47306
E-mail:
Institutional Print & Online - $204.00
Institutional Print or Online - $146.00
Institutional Single Issue - $79.00
Individual Print & Online - $79.00
Individual Print or Online - $55.00
Individual Single Issue - $34.00
Outside US add Shipping & Handling - $12.00
European Reference Index for the Humanities and Social Sciences (ERIH PLUS)