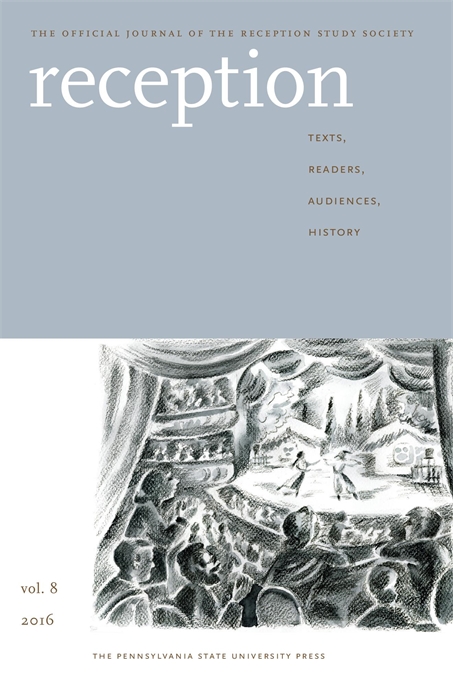 Reception
Texts, Readers, Audiences, History
Amy Blair, Editor
James L. Machor, Editor
SUBSCRIBE / RENEW
Reception
Texts, Readers, Audiences, History
Amy Blair, Editor
James L. Machor, Editor
Description

Board

Submissions

Pricing

Indexing
Reception: Texts, Readers, Audiences, History is a scholarly, peer-reviewed journal published once a year. It seeks to promote dialog and discussion among scholars engaged in theoretical and practical analyses in several related fields: reader-response criticism and pedagogy, reception study, history of reading and the book, audience and communication studies, institutional studies and histories, as well as interpretive strategies related to feminism, race and ethnicity, gender and sexuality, and postcolonial studies, focusing mainly but not exclusively on the literature, culture, and media of England and the United States.
Reception is the official journal of the Reception Study Society, a non-profit organization that seeks to promote informal and formal exchanges between scholars in several related fields: reader-response criticism and pedagogy, reception study, the history of reading and the book, cultural studies, communication and media studies, and any other studies engaging these primary areas.
Editors
Amy Blair, Marquette University
James L. Machor, Kansas State University
Book Review Editor
Yung-Hsing Wu, University of Louisiana, Lafayette
Editorial Board
Temma Berg, Gettysburg College
Rhiannon Bury, Athabasca University
Phillip Goldstein, University of Delaware
Barbara Hochman, Ben-Gurion University of the Negev
Charles Johanningsmeier, University of Nebraska at Omaha
Steven J. Mailloux, Loyola Marymount University
Walter Metz, Southern Illinois University
Toby Miller, University of California at Riverside
Daniel Morris, Purdue University
Kimberly Nance, Illinois State University
Rhonda Pettit, University of Cinncinnati Blue Ash College
Patrocinio Schweickart, Purdue University
Janet Staiger, University of Texas at Austin
Charlotte Templin, University of Indianapolis
Tom Toremans, KU Leuven, Brussels Campus, Belgium
If you would like to submit an article to Reception, please visit http://www.editorialmanager.com/reception and create an author profile. The online system will guide you through the steps to upload your article for submission to the editorial office.
Essays submitted for publication will be evaluated by at least two members of the editorial board. Contributors can expect a response in a timely fashion. Essays should follow Chicago style and should not exceed 7,000 words.
Submissions should be accompanied by an Abstract of up to 150 words. Abstract Guidelines may be found here.
Institutional Print & Online - $204.00
Institutional Print or Online - $146.00
Institutional Single Issue - $152.00
Individual Print & Online - $114.00
Individual Print or Online - $83.00
Individual Single Issue - $88.00
Outside US add Shipping & Handling - $12.00
Emerging Sources Citation Index
European Reference Index for the Humanities and Social Sciences (ERIH PLUS)
IBZ
MLA International Bibliography
Scopus