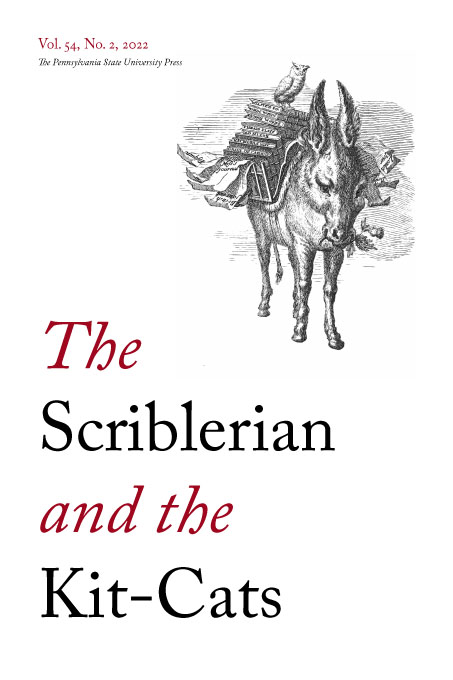 The Scriblerian and the Kit-Cats
Neil Guthrie, Editor
Melanie Holm, Editor
E. Derek Taylor, Editor
VIEW ONLINE
The Scriblerian and the Kit-Cats
Neil Guthrie, Editor
Melanie Holm, Editor
E. Derek Taylor, Editor
Description

Board

Submissions

Open Access
Since 1968, The Scriblerian and the Kit-Cats has offered imaginative, insightful, and concise reviews of current critical discussion of the English literature of the late seventeenth- and early eighteenth-centuries. The biannual journal offers knowledgeable responses to recent criticism of late-seventeenth and early eighteenth-century literary figures (Addison, Behn, Congreve, Dennis, Dryden, Finch, Garth, Gay, Haywood, Hogarth, Mandeville, Montagu, Parnell, Pilkington, Pope, Rochester, Rowe, Rymer, Settle, Shaftesbury, Steele, Swift, Thomson, Toland, and Vanbrugh, as well as the five early novelists (Defoe, Fielding, Richardson, Smollett, and Sterne). Notes on the history and culture of the period and bibliographical commentary often accompany the Scriblerian's comprehensive article and book reviews.
Editors
Neil Guthrie, University of Toronto
Melanie Holm, Indiana University of Pennsylvania
E. Derek Taylor, Longwood University
Book Review Editor
Melvyn New, University of Florida
The Scriblerian follows MLA (6th ed.). Authors should consult previous issues of the journal for questions of style. Inquiries should be directed to the editors: , , or .
To submit a manuscript to The Scriblerian, please visit http://www.editorialmanager.com/scrib. The online system will guide you through the steps to upload your manuscript and submit to the editorial office.
This is an Open Access journal.