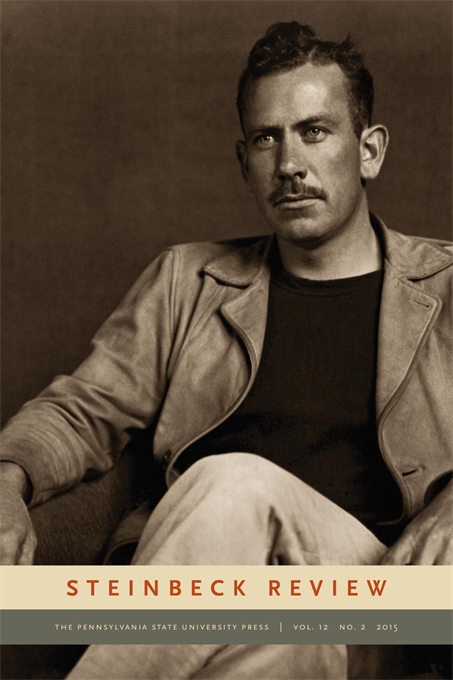 Steinbeck Review
Barbara A. Heavilin, Editor in Chief
SUBSCRIBE / RENEW
Steinbeck Review
Barbara A. Heavilin, Editor in Chief
Description

Board

Submissions

Pricing

Indexing
Steinbeck Review is an authorized publication on the life and works of American novelist John Steinbeck (1902–1968). It publishes scholarly articles; notes; book and performance reviews; creative writing; original artwork; and short intercalary pieces offering fresh perspectives, including notes on contemporary references to Steinbeck, discussions of the contexts of his work, and an occasional poem. Steinbeck Review has a threefold mission of broadening the scope of Steinbeck criticism, promoting the work of new and established scholars, and serving as a resource for Steinbeck teachers at all levels.
Editor in Chief
Barbara A. Heavilin, Professor Emeritus, Taylor University
Associate Editors
Cecilia Donohue, Madonna University
Kathleen Hicks, Arizona State University
Scott Pugh, Seinan Gakuin University
Assistant Editors
John Timmerman, Calvin College
Lowell Wyse, Broward College, Florida at the Center for Global Education in Lima, Peru.
Book Review Editor
Lowell Wyse, Broward College, Florida at the Center for Global Education in Lima, Peru.
Bibliographer
Peter Van Coutren, San Jose State University
Archivist
Peter Van Coutren, San Jose State University
Editorial Board
Richard Astro, Drexel University
Elisabeth Bayley, Loyola University, Chicago
Sharon DeBartolo Carmack, Southern New Hampshire University
Danica Cerce, University of Ljubljana
Donald V. Coers, Angelo State University
Jon Falsarella Dawson, University of Georgia
Robert DeMott, Ohio University
Paul Douglass, San Jose State University
Charles Etheridge, Texas A&M University, Corpus Christi
Mimi Gladstein, University of Texas at El Paso
Richard E. Hart, Bloomfield College
Kevine Hearle, Independent Scholar
Michael K. Hemp, Cannery Row Foundation
Michael Kowalewski, Carleton College
Luchen Li, Northeastern University
Jay Parini, Middlebury College Scott Pugh, Fukukoka Women's College
Brian Railsback, Western Carolina University
Will Ray, Independent Scholar
Rodney P. Rice, South Dakota School of Mines & Technology
Susan Shillinglaw, San José State University
Terrell L. Tebbetts, Lyon College
Henry Veggian, University of North Carolina
David M. Wrobel, University of Oklahoma
Cyrus Ernesto Ziraksadeh, University of Connecticut
Call for Papers
Now accepting submissions!
Call For Papers, 2023 Steinbeck Conference: "Reading, Teaching, and Translating Steinbeck," March 22-24, 2023, San José State University, San José CA
Even as John Steinbeck's diverse body of work has played an essential role in identifying and interpreting the major issues of the past century, his narratives and insights remain radically relevant to our present moment, as communities across the world navigate unprecedented social, political, economic, medical, and ecological challenges. Since Steinbeck's significance is best communicated to contemporary audiences through the practices of reading, teaching, and translation, the 2023 conference will focus on how these forms of engagement help us better understand and share Steinbeck's relevance to our contemporary world.
The International Steinbeck Society invites abstract proposals from varied disciplines and critical frameworks, including but not limited to literary/cultural studies, comparative literature, media studies, secondary and postsecondary education, psychology, political science, sociology, ecology, and marine biology. Potential topics include comparative studies of Steinbeck and post-Steinbeck writers, issues in translating Steinbeck's works into other languages, stage/film/video adaptations, and approaches to teaching Steinbeck in contemporary classrooms.
We are also pleased to invite undergraduate students to participate in a poster session focused on sharing their analysis of, and approaches to, the author's works, context, and enduring relevance. Undergraduates who are interested in attending the conference are encouraged to speak with their professors about possibilities for funding that may be available through their university. Professors who are interested in integrating an assignment related to the conference into their classroom are encouraged to direct any questions about the poster session to steinbeck@sjsu.edu.
For traditional presentations, please email your abstract of up to 300 words, as well as a short bio (up to 200 words) to Steinbeck@sjsu.edu with the subject line "Steinbeck Conference 2023 Submission, [last name]." If you are interested in submitting a pre-constituted panel, workshop, or roundtable session, please note your panel title, format, and the names of your co-presenters in your submission.
If you are interested in soliciting participants for a pre-constituted panel, workshop, or roundtable session, please send your topic and request to the Martha Heasley Cox Center for Steinbeck Studies @ Steinbeck@sjsu.edu, with the subject line "Panel CFP Steinbeck Conference 2023." We will then share your topic and call for participants with the Center's mailing list.
All abstract proposals are due by November 15th, 2022.
To submit a manuscript to the editorial office, please visit http://www.editorialmanager.com/steinbeck/ and create an author profile. The online system will guide you through the steps to upload your article for submission to the editorial office.
Scholarly articles should generally be from twelve to twenty double-spaced pages in length, and notes (short articles) should generally be no longer than eight pages. All submissions must conform to the MLA Handbook for Writers of Research Papers. Essays should show an awareness of the most recent developments in Steinbeck criticism and should be written with an intent to delight as well as to instruct. All critical and theoretical critical approaches are welcome. Poetry submissions should deal with themes or places associated with Steinbeck's life and works. Potential contributors are encouraged to examine the most recent issue(s) of Steinbeck Review for examples of format and style.
Institutional Print & Online - $218.00
Institutional Print or Online - $156.00
Institutional Single Issue - $85.00
Individual Print & Online - $81.00
Individual Print or Online - $57.00
Individual Single Issue - $35.00
Outside US add Shipping & Handling - $12.00
Emerging Sources Citation Index
European Reference Index for the Humanities and Social Sciences (ERIH PLUS)
IBZ
MLA International Bibliography
Scopus