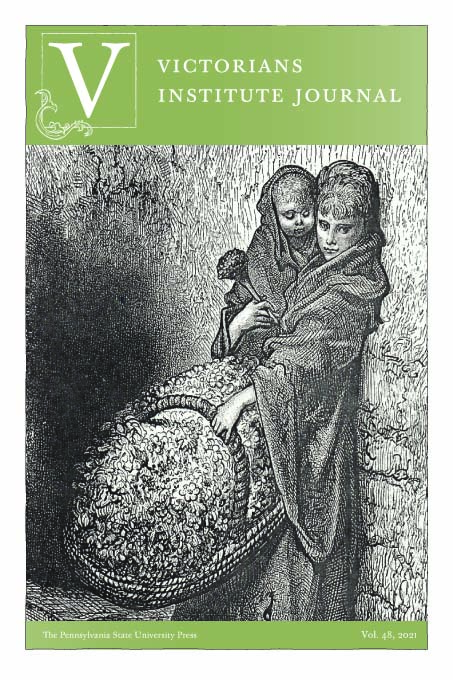 Victorians Institute Journal
Maria K. Bachman, Editor
Don Richard Cox, Editor
SUBSCRIBE / RENEW
Victorians Institute Journal
Maria K. Bachman, Editor
Don Richard Cox, Editor
Description

Board

Submissions

Pricing
The Victorians Institute Journal is an award-winning, refereed scholarly journal that publishes articles, reviews, and newly edited texts of interest to scholars in Victorian and Edwardian literary and cultural studies.
VIJ is the official publication of the Victorians Institute and is supported by the Department of English at Middle Tennessee State University, as well as the Department of English and the College of Arts and Sciences at the University of Tennessee.
Editors
Maria K. Bachman, Middle Tennessee State University
Don Richard Cox, University of Tennessee
Editorial Board
Anne-Marie Beller, Loughborough University
Susan P. Casteras, University Of Washington
Karen Chase, University of Virginia
Mary Jean Corbett, Miami University of Ohio
Martin Danahay, Brock University
Ginger Frost, Samford University
Pamela Gilbert, University of Florida
Antony Harrison, North Carolina State University
Linda Hughes, Texas Christian University
U. C. Knoepflmacher, Princeton University
Laurie Langbauer, University of North Carolina, Chapel Hill
Patrick Leary, The Research Society for Victorian Periodicals
Brian Maidment, Liverpool John Moores University
Britta Martens, University of the West of England (Bristol)
Jerome McGann, University of Virginia
Deborah Morse, College of William and Mary
Peter Orford, University of Buckingham
John Reed, Wayne State University
Patrick Scott, University of South Carolina
Linda Shires, Yeshiva University
Herbert Tucker, University of Virginia
Tamara Wagner, Nanyang Technological University (Singapore)
The Victorians Institute Journal welcomes innovative submissions that contribute to any aspect of Victorian and Edwardian literary and cultural studies in the twenty-first century.
To submit a manuscript to the Victorians Institute Journal, please visit http://www.editorialmanager.com/vij. The online system will guide you through the steps to upload your article to the editorial office.
Manuscripts should be between 6,000 and 8,000 words, and follow The Chicago Manual of Style. Editorial report usually follows within four months.
Institutional Print & Online - $257.00
Institutional Print or Online - $184.00
Institutional Single Issue - $187.00
Individual Print & Online - $76.00
Individual Print or Online - $54.00
Individual Single Issue - $55.00
Outside US add Shipping & Handling - $21.00