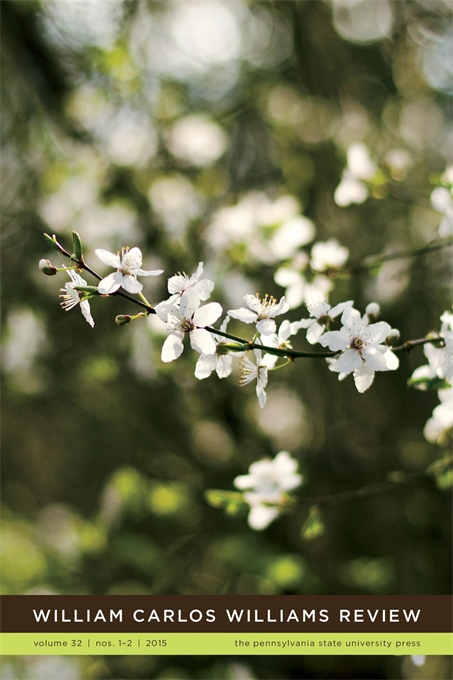 William Carlos Williams Review
Ian Copestake, Editor
SUBSCRIBE / RENEW
William Carlos Williams Review
Ian Copestake, Editor
Description

Board

Submissions

Pricing

Indexing
The William Carlos Williams Review showcases current and original scholarship from around the world focused on any aspect of the life and works of William Carlos Williams and his literary milieu, including the relationship of Williams and his contemporaries to the artistic, philosophical, social, and political movements of his day.
Announcing two new annual awards from the William Carlos Williams Society!
The Louis Martz Award ($500) for the best work of scholarship (book, article, or chapter) on William Carlos Williams
The Walter Scott Peterson Award ($500) for the best article published in the William Carlos Williams Review
For submission guidelines and deadlines, contact Professor Stephen Hahn at hahns@wpunj.edu.
Editor
Ian Copestake, independent scholar
Editorial Board
Barry Ahearn, Tulane University
Steven Axelrod, University of California, Riverside
Brian Bremen, University of Texas at Austin
Terence Diggory, Skidmore College
Kerry Driscoll, University of California, Berkeley
Ann Fisher-Wirth, University of Mississippi
Cristina Giorcelli, University of Rome Three
Theodora Rapp Graham, The Pennsylvania State University, Harrisburg
Margaret Konkol, Old Dominion University
John Lowney, St. John's University
Christopher MacGowan, College of William and Mary
Glen MacLeod, University of Connecticut, Waterbury
Paul Mariani, Boston College
Alec Marsh, Muhlenberg College
Daniel Morris, Purdue University
Peter Schmidt, Swarthmore College
Lisa Steinman, Reed College
Erin Templeton, Converse College
Eric White, Oxford Brookes University
If you would like to submit an article or a book review to William Carlos Williams Review, please visit http://www.editorialmanager.com/wcwr and create an author profile. The online system will guide you through the steps to upload your article for submission to the editorial office.
Please contact the editor, Ian Copestake, by email regarding submissions, queries and book reviews at .
Books for review should be sent directly to the editor at Ian Copestake, Reuterweg 102, Frankfurt am Main, 60323, Germany.
Institutional Print & Online - $185.00
Institutional Print or Online - $132.00
Institutional Single Issue - $71.00
Individual Print & Online - $53.00
Individual Print or Online - $41.00
Individual Single Issue - $25.00
Outside US add Shipping & Handling - $21.00
Emerging Sources Citation Index
IBZ
MLA International Bibliography