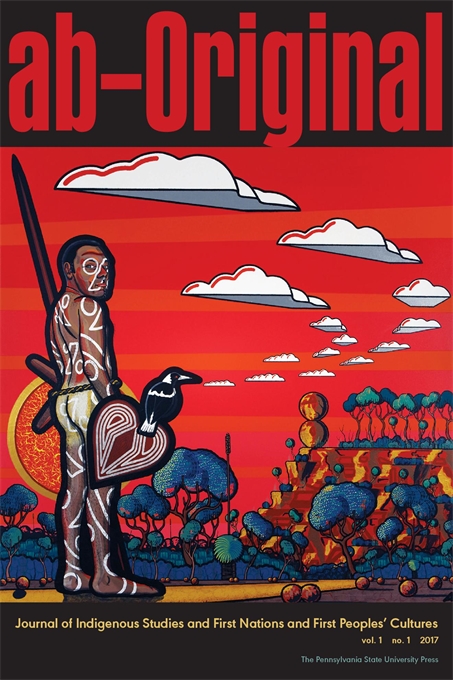 ab-Original
Journal of Indigenous Studies and First Nations and First Peoples' Cultures
Jakelin Troy, Editor in Chief
Adam Geczy, Editor
Mujahid Torwali, Editor
SUBSCRIBE / RENEW
ab-Original
Journal of Indigenous Studies and First Nations and First Peoples' Cultures
Jakelin Troy, Editor in Chief
Adam Geczy, Editor
Mujahid Torwali, Editor
Description

Board

Submissions

Pricing
ab-Original: Journal of Indigenous Studies and First Nations and First Peoples' Cultures is a journal devoted to issues of indigeneity in the new millennium. It is a multi-disciplinary journal embracing themes such as art, history, literature, politics, linguistics, health sciences and law. It is a portal for new knowledge and contemporary debate whose audience is not only that of academics and students but professionals involved in shaping policies with regard to concern relating to indigenous peoples.
Editor in Chief
Jakelin Troy, The University of Sydney
Editors
Adam Geczy, The University of Sydney
Mujahid Torwali, The University of Sydney
Managing Editor
Sally McNicol
Exhibitions Editor
Janelle Evans, The University of Sydney
Book Review Editor
Marie Carla Dany Adone, University of Cologne
Editorial Board
Mick Adams, Edith Cowan University
Melanie Cheung, The University of Auckland
Len Collard, The University of Western Australia
Fay Fletcher, University of Alberta
Tawara D. Goode, Georgetown University
Michael Hart, University of Manitoba
Genevieve Hyacinthe, School of Visual Arts, New York City
Malcolm King, University of Alberta
Shino Kinoshi, The University of Western Australia
Peter Mataira, Hawai'i Pacific University
Gerald McMaster, OCAD University
Peter Minter, The University of Sydney
Georges Petitjean, Aboriginal Art Museum Utrecht
Julianne Sanguins, University of Manitoba
Juanita Sherwood, The University of Sydney
Niigaan Sinclair, University of Manitoba
Michael Walsh, The University of Sydney
Denise Wilson, Auckland University of Technology
Editorial Advisory Board
Clint Bracknell, The University of Sydney
Treena Delormier, University of Hawai'i
Bonnie Duran, University of Washington
Lorena Sekwan Fontaine, University of Winnipeg
John Gilroy, The University of Sydney
Shane Houston, The University of Sydney
Michelle Johnson-Jennings, University of Minnesota
Kiera Ladner, University of Manitoba
Barry Lavallee, University of Manitoba
Jeanine Leane, The University of Melbourne
Vanessa Lee, The University of Sydney
John Maynard, The University of Newcastle
Dory Nason, The University of British Columbia
Mohit Prassad, The University of the South Pacific
Mohi Rua, The University of Waikato
Kim Scott, Curtin University
Scott Manning Stevens, Syracuse University
Maile Taualii, University of Hawai'i
Jean-François Vernay, Global Institute - Sydney, Pacific Rim
Melissa Walls, University of Minnesota
Ghil'ad Zuckermann, The University of Adelaide
Each issue will consist of 40-50,000 words. All academic articles should be approximately 6-10,000 words long. An abstract of approximately 150 words must accompany each manuscript. All articles and comprehensive review essays will be peer-reviewed. Opinion pieces or short research reports, which are not peer reviewed, should be approximately 1,500 to 3,000 words in length. Complete submission guidelines may be found here.
To submit an article, please visit http://www.editorialmanager.com/ab-original. The online system will guide you through the steps to upload your article to the editorial office.
Institutional Print & Online - $185.00
Institutional Print or Online - $132.00
Institutional Single Issue - $71.00
Individual Print & Online - $54.00
Individual Print or Online - $41.00
Individual Single Issue - $25.00
Outside US add Shipping & Handling - $12.00