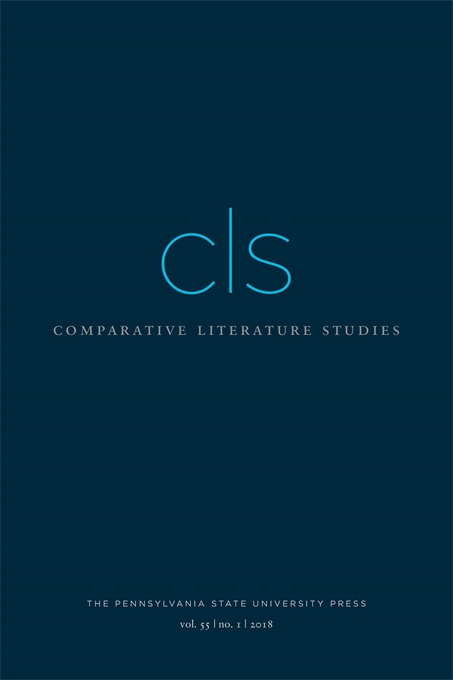 Comparative Literature Studies
Thomas O. Beebee, Editor
SUBSCRIBE / RENEW
Comparative Literature Studies
Thomas O. Beebee, Editor
Description

Board

Submissions

Pricing

Indexing
Comparative Literature Studies publishes comparative critical articles that deal with works in two or more languages, and which may range across the rich traditions of Africa, Asia, Europe, and North and South America, and that examine the literary relations between East and West, North and South. Articles may also explore movements, themes, forms, the history of ideas, relations between authors, the foundations of criticism and theory, and issues of language and translation. Intermedial studies, such as film and literature or graphic novels, are also welcome as long as they adhere to the polyglot principles of comparative studies. Each issue of CLS also contains numerous book reviews of the most important comparative literature monographs and essay collections.
Editor
Thomas O. Beebee, The Pennsylvania State University
Associate Editors
Jonathan Abel, Pennsylvania State University
Michael Bérubé, The Pennsylvania State University
Jonathan P. Eburne, The Pennsylvania State University
Caroline D. Eckhardt, The Pennsylvania State University
Nergis Ertürk, Pennsylvania State University
Charlotte Eubanks, Pennsylvania State University
Thomas A. Hale, The Pennsylvania State University
Eric Hayot, The Pennsylvania State University
Rosemary J. Jolly, Pennsylvania State University
Djelal Kadir, The Pennsylvania State University
Sophia A. McClennen, The Pennsylvania State University
Michael M. Naydan, The Pennsylvania State University
John Ochoa, Pennsylvania State University
Shuang Shen, Pennsylvania State University
Reiko Tachibana, The Pennsylvania State University
Adrian J. Wanner, The Pennsylvania State University
Editorial Board
Masayuki Akiyama, Nihon University
Réda Bensmaïa, Brown University
Ross Brann, Cornell University
Eduardo Coutinho, Universidade Federal de Rio de Janeiro
Yuë Daiyun, University of Peking
Irène D'Almeida, University of Arizona
David Damrosch, Harvard University
Caryl Emerson, Princeton University
Eugene Eoyang, Indiana University
Margaret W. Ferguson, University of California, Davis
Simon Gikandi, Princeton University
Elizabeth Grosz, Rutgers University
N. Katherine Hayles, University of California, Los Angeles
Linda Hutcheon, University of Toronto
Peggy Kamuf, University of Southern California
Koji Kawamoto, Tokyo Universiy
Mary Layoun, University of Wisconsin
Zhang Longxi, City University of Hong Kong
Paul Michael Luetzeler, Washington University
Giuseppe Mazzotta, Yale University
Stephen G. Nichols, The Johns Hopkins University
Manfred Schmeling, Univdes Saarlandes
Azade Seyhan, Bryn Mawr College
Steven P. Sondrup, Brigham Young University (President, International Comparative Literature Association)
Gerhard F. Strasser, The Pennsylvania State University
Janet Walker, Rutgers University
Pauline Yu, University of California, Los Angeles
Lois Parkinson Zamora, University of Houston
Jan Ziolkowski, Harvard University
Editorial Assistant
Victoria Lupascu
Founding Editors
Alfred Owen Aldridge
Melvin J. Friedman
Editors Emeriti
Robert R. Edwards, The Pensylvania State University
Stanley Weintraub, The Pennsylvania State University
CLS will publish comparative articles in literary history, the history of ideas, critical theory, studies between authors, and literary relations within and beyond the Western tradition. CLS does not publish notes, and encourages submissions over 15 pages. Documentation should conform to the endnote style of The MLA Style Manual (1985), which does not use a "Works Cited" list.
To submit a manuscript to the editorial office, please visit http://www.editorialmanager.com/cls/ and create an author profile. The online system will guide you through the steps to upload your manuscript.
The A. Owen Aldridge Prize Call for Submissions
An Annual Paper Competition for Graduate Students
Comparative Literature Studies, published at the Pennsylvania State University Press, announces that it will publish an annual prize-paper written by a graduate student. The competition is named in honor of A. Owen Aldridge, founder of CLS. The purpose of this competition is to encourage and recognize excllence in scholarship among graduate students and to reward the highest achievement by publication. This project is sponsored by CLS in cooperation with the American Comparative Literature Association and supported by the Department of Comparative Literature at Penn State. The award carries a monetary prize as well, including an honorarium and help with travel expenses to attend the 2019 ACLA meeting.
Guidelines:
1. Any graduate student currently enrolled in an M.A. or Ph.D. program in Comparative Literature or the equivalent designation (e.g., Comparative Cultural Studies) may submit one paper annually.
2. Papers may be on any comparative topic and deal with any language areas. They should be scholarly articles-on literary research, theory, or criticism-and address more than one language area. They should not, for example, be interviews, translations, or editions of texts.
3. Papers should be of normal length for journal submission, 6000-13000 words, and be written in English. Any professional citational style is acceptable, though the winner will need to revise to conform to CLS style (modified Chicago).
4. Submissions consist of: 1) one copy of the article prepared as in #5 and 2) a note on letterhead from the program head or faculty adviser indicating that the student is enrolled in a graduate program as stated in #1.
5. Papers should be prepared for anonymous evaluation. A separate cover letter should give the paper's title, author's name, and contact information. The first page of the paper itself should include the title of the work, but not the author's name.
6. Digital submissions (Word or PDF files only) via email will also be accepted at cl-studies@psu.edu. The letterhead note from the adviser may be substituted by an email message sent with an institutional domain address in the "From" line.
7. The winning paper must conform to CLS standards and will be copy-edited and subject to the same editorial recommendations as other CLS materials. The intention of CLS is to publish the winning paper within 12 months. A note will indicate that the paper is the winner of the Aldridge competition and that it has been selected by the ACLA and CLS.
DEADLINE FOR RECEIPT OF SUBMISSIONS for the 2018 Aldridge Prize is November 15, 2018.
Send submissions to:
Editor-in-Chief
Comparative Literature Studies
442 Burrowes Building
University Park, PA 16802
cl-studies@psu.edu
Institutional Print & Online - $247.00
Institutional Print or Online - $176.00
Institutional Single Issue - $49.00
Individual Print & Online - $95.00
Individual Print or Online - $67.00
Individual Single Issue - $22.00
Outside US add Shipping & Handling - $38.00
Arts & Humanities Citation Index
IBZ
MLA International Bibliography
Scopus