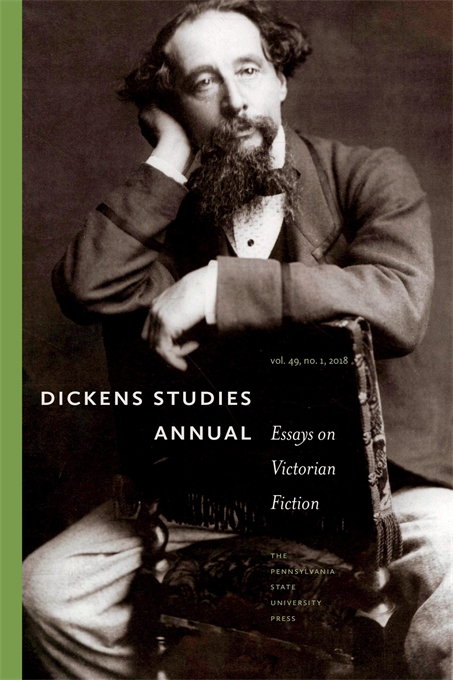 Dickens Studies Annual
Essays on Victorian Fiction
Edward Guiliano, Editor
Anne Humpherys, Editor
Natalie McKnight, Editor
SUBSCRIBE / RENEW
Dickens Studies Annual
Essays on Victorian Fiction
Edward Guiliano, Editor
Anne Humpherys, Editor
Natalie McKnight, Editor
Description

Board

Submissions

Pricing

Indexing
Founded in 1970, the centennial anniversary of Dickens's death, Dickens Studies Annual: Essays on Victorian Fiction publishes articles exploring the wide range of Dickens's interests and talents. The journal includes essays on other mid- and late-nineteenth century novelists and on the history and aesthetics of the period's fiction. Each volume also contains a solicited review article examining much of a prior year's scholarship on Dickens. Periodically, Dickens Studies Annual publishes solicited surveys of studies of other Victorian authors. The journal is intended to be of interest to both students and scholars at various stages of their careers.
Celebrate the 175th anniversary of A Christmas Carol with Dickens Studies Annual!

Over on the PSU Press Tumblr, DSA Co-Editor Edward Guiliano looks at how A Christmas Carol was received in 1843, and its lasting influence today.
Editors
Edward Guiliano, New York Institute of Technology, US
Anne Humpherys, Lehman College, CUNY and The Graduate Center, CUNY, US
Natalie McKnight, Boston University, US
Editorial Board
Diana Archibald, University of Massachusetts Lowell, US
Carolyn Vellenga Berman, The New School, US
John Bowen, University of York, UK
Joel J. Brattin, Worcester Polytechnic Institute, US
Elizabeth Bridgham, Providence College, US
Alicia Carroll, Auburn University, US
Susan Cook, Southern New Hampshire University, US
David Garlock, Baruch College, CUNY, US
Sarah Gates, St. Lawrence University, US
Ruth Glancy, Concordia University of Edmonton, CA
Robert C. Hanna, Bethany Lutheran College, US
Tamar Heller, University of Cincinnati, US
Mark M. Hennelly Jr., California State University, Sacramento, US
Shari Hodges Holt, University of Mississippi, US
John O. Jordan, The Dickens Project, University of California, Santa Cruz, US
James Kincaid, University of Southern California and University of Pittsburgh, US
Lanya Lamouria, Missouri State University, US
Cynthia N. Malone, College of Saint Benedict and Saint John's University, US
Anne McCarthy, The Pennsylvania State University, US
Nancy Metz, Virginia Tech, US
Renata Kobetts Miller, City College of New York, CUNY, US
Goldie Morgentaler, University of Lethbridge, CA
Lillian Nayder, Bates College, US
Jude V. Nixon, Salem State University, US
Robert L. Patten, Rice University and University of London, UK
John Reed, Wayne State University, US
Caroline Reitz, John Jay College, CUNY and The Graduate Center, CUNY, US
Dianne F. Sadoff, Rutgers, State University of New Jersey, US
Timothy A. Spurgin, Lawrence University, US
Deborah A. Thomas, Villanova University, US
Editorial Assistant
Koyuki Smith
To submit an article to Dickens Studies Annual, please visit http://www.editorialmanager.com/dsa. The online system will guide you through the steps to upload your article to the editorial office.
The editors seek to offer essays of "the most diverse kinds," those employing innovative as well as traditional approaches. DSA welcomes submissions that disclose how familiarity with the Victorian era enlightens us about the art of Dickens and his contemporary authors, as well as discussions revealing how knowledge of the writings of Dickens and other Victorians informs us about their time in history.
Announcements
Victorian Fiction Studies Award
The editors of Dickens Studies Annual: Essays on Victorian Fiction announce the creation of a cash award of one-thousand-five-hundred dollars ($1,500) for an author's first publication in the field of Victorian fiction. Essays on any mid-to-late nineteenth-century writer or works of Victorian fiction or related journalism and prose or on the history and aesthetics of Victorian fiction are welcome.
Submissions are appropriate from anyone, including senior scholars seeking to publish on Victorian fiction for the first time as well as PhD or Master's candidates seeking to draw from their thesis for a first publication in the field. There is no deadline for the submission of essays for consideration nor is there a limit on the number of awards. Essays will go through the standard double-blind peer review process at DSA. The prizes are issued at the time of acceptance. Please submit on http://www.editorialmanager.com/dsa.
Institutional Print & Online - $229.00
Institutional Print or Online - $164.00
Institutional Single Issue - $89.00
Individual Print & Online - $121.00
Individual Print or Online - $88.00
Individual Single Issue - $49.00
Outside US add Shipping & Handling - $12.00
Emerging Sources Citation Index
European Reference Index for the Humanities and Social Sciences (ERIH PLUS)
MLA