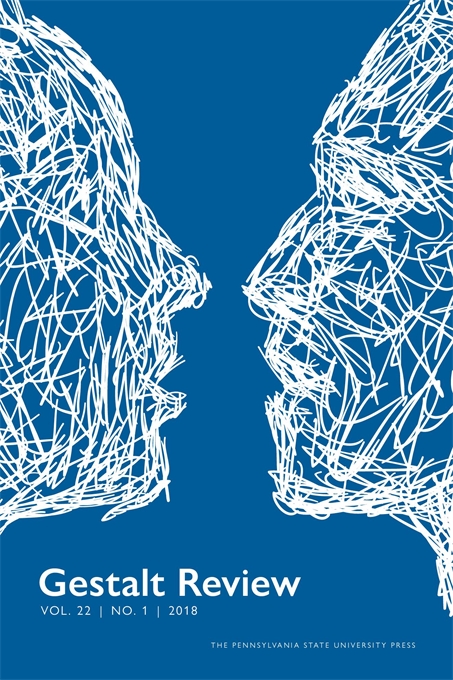 Gestalt Review
Susan L. Fischer, Editor
SUBSCRIBE / RENEW
Gestalt Review
Susan L. Fischer, Editor
Description

Board

Submissions

Pricing

Indexing
Launched in 1997, Gestalt Review is a peer-reviewed journal that provides a worldwide forum for exchanges in theory and practice. It concentrates on the Gestalt approach at all levels of system: from the individual, couples, families, and groups, to organizations, educational settings, and the community-at-large. Published two times a year, the journal includes original articles dealing with politics, philosophy, gender, and culture. There is also a section for book reviews and reflections. It is targeted to Gestalt theorists, Gestalt therapists, Organizational Development professionals, psychologists, social workers, clinicians, counselors, educators, and the community-at-large.
The Gestalt International Study Center (GISC) believes that awareness of yourself and how you work with others is the path toward having significant influence on people, greater personal and professional growth, and ultimate success. At the Gestalt International Study Center, powerful and practical learning experiences help you develop the ability to act with awareness and intention, to respond to challenges with more confidence and ease, and to create profound and positive change.
Editor
Susan L. Fischer, PhD, US
Associate Editors
Nancy Amendt-Lyon, Dr. phil., AT
Dan Bloom, JD, LCSW, US
Liv Estrup, MA, US
Ruella Frank, PhD, US
Jon Frew, PhD, US
Elinor Greenberg, PhD, US
Alan Meara, MGT, AU
Gary Yontef, PhD, LCSW, US
Editorial Advisory Board
Jack Aylward, EdD, US
Peter Cole, LCSW, US
Billy Desmond, MSc, MBA, IE
Sarah Fallon, SRAsT(D), Dip GPTI, UK
Iris Fodor, PhD, US
Gianni Francesetti, MD, IT
Seán Gaffney, PhD, IE/SE
Leslie S. Greenberg, PhD, CA
E. Rachel Hochman, MS, US
Gaie Houston, MA, UK
Lynne Jacobs, PhD, US
Talia Levine Bar-Yoseph, MA, IL
Jochen Lohmeier, PhD, ZA
Mark McConville, PhD, US
Peter Mortola, PhD, US
Violet Oaklander, PhD, US
Eleanor O'Leary, PhD, IE
Brian O'Neill, BA (Hons) MAPS, AU
Malcolm Parlett, PhD, UK
Susan E. Partridge, PhD, LCSW, US
Erving Polster, PhD, US
Robert Resnick, PhD, US
Jean-Marie Robine, PsyD
Jan Roubal, MD, PhD, CZ
Stuart N. Simon, LICSW, US
Margherita Spagnuolo-Lobb, PhD, IT
Sarah Toman, PhD, US
Daan van Baalen, MD, NO
Carmen Vázquez Bandín, PhD, ES
Gordon Wheeler, PhD, US
Ansel Woldt, EdD, US
Founding Editor
Joseph Melnick, PhD, US
Gestalt International Study Center
Laurie Fitzpatrick, Managing Director, US
Gestalt Review is committed to working with authors in a productive and collaborative manner. Original manuscripts should be prepared according to Gestalt International Study Center stipulations and Chicago Manual of Style (author-date format). Generally, manuscripts should not exceed 8,000 words including notes and references. All submissions should include the following: an abstract of approximately 100 words; 3-5 keywords; email address; and a 2-3 sentence biography with your most advanced academic degree/professional title.
To submit an article, please visit http://www.editorialmanager.com/gestaltreview. The online system will guide you through the steps to upload your article to the editorial office. Manuscripts must not have been published, nor submitted for publication, elsewhere. Questions may be sent to the editor at .
Institutional Print & Online - $224.00
Institutional Print or Online - $160.00
Institutional Single Issue - $85.00
Individual Print & Online - $82.00
Individual Print or Online - $55.00
Individual Single Issue - $34.00
Outside US add Shipping & Handling - $21.00
European Reference Index for the Humanities and Social Sciences (ERIH PLUS)