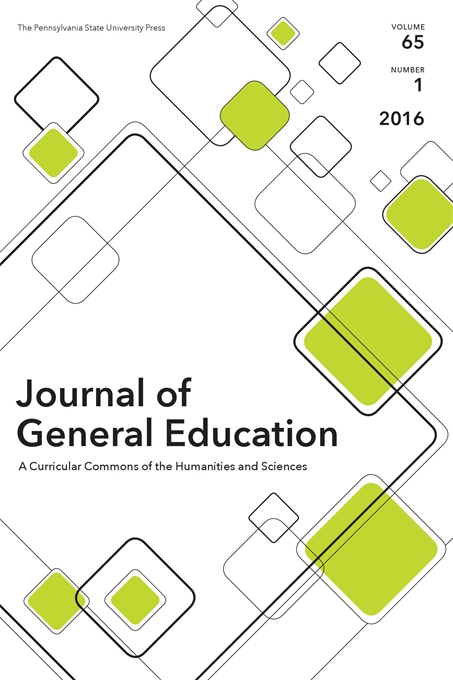 Journal of General Education
A Curricular Commons of the Humanities and Sciences
Christopher P. Long, Editor
SUBSCRIBE / RENEW
Journal of General Education
A Curricular Commons of the Humanities and Sciences
Christopher P. Long, Editor
Description

Board

Submissions

Pricing

Indexing
Journal of General Education: A Curricular Commons of the Humanities and Sciences (JGE) is devoted to the ideas and ideals of scholarship that enlighten the understanding of the general education curriculum. General education reaches across disciplinary and professional concentrations to provide an undergraduate educational commons. JGE engages academic communities and the broader public about general education experiments and innovation, including but not limited to the assessment, history, philosophy, and theoretical commitments of general education.
In short, JGE is focused not on a scholarship of general interest to those engaged in undergraduate education. Rather, JGE is a scholarly community interested in general education as a distinctive cornerstone of the arts of liberty that prepare citizens to live engaged, responsible, and meaningful lives.
JGE is particularly interested in thoughtful reflections and reports from those who are currently undertaking general education reform. In addition, JGE welcomes proposals for special issues of the Journal. Please contact the Editorial Office at JGE@press.psu.edu.
We encourage you to engage the journal community online through our Twitter account: @JGenEdu.
Editor
Christopher P. Long, Michigan State University
Advisory Board
Sean Burns, Northwestern University in Qatar
John Dedrick, Kettering Foundation
Rosa Eberly, The Pennsylvania State University
Connie Flanagan, University of Wisconsin Madison
Walter E. Fluker, Boston University
Tanya Furman, The Pennsylvania State Unviersity
Sukhwant Jhaj, Portland State University
Stephanie Kenen, Harvard College
John F. Kutsko, Executive Director, Society of Biblical Literature
Steven Lamy, University of Southern California
Lisa Lattuca, University of Michigan
Sondra Myers, University of Scranton
Cynthia Nearman, Guilford College
Sandra Richards, Northwestern University in Qatar
Randy Swing, Association For Institutional Research
Editorial Assistant
Bethany Laursen, Michigan State University
All manuscripts must be submitted through our online system. Please visit this site to create an author account, view detailed author guidelines, and submit: http://www.editorialmanager.com/jge/.
The Journal invites submissions from 1,000-7,000 words in length, depending on the type of submission:
- Essays, literature reviews, position papers, and critical self-reflections about ongoing general education reform should be between 1,000 and 5,000 words.
- Synopses of innovative programs and practices in schools and colleges should be between 1,000 and 3,000 words.
- Research articles on general education or general learning should not exceed 7,000 words.
- Book reviews should be between 1,000 and 3,000 words.
- The Journal welcomes alternative manuscript formats such as poems, dialogues, and ethnodramas, so long as the abstract justifies how the format supports the content. Such alternative formats have flexible word count requirements, and these will be assessed during peer review.
Articles are selected for the original ideas, cogent arguments, and creative approaches they contribute to enriching the general education endeavor. Each article is assessed by the editors and reviewers for its contribution to the scholarship on general education. Articles that do not match the mission of the Journal (see Description page) will be rejected. Please contact the Editorial Office with submission questions at .
Institutional Print & Online - $232.00
Institutional Print or Online - $164.00
Institutional Single Issue - $46.00
Individual Print & Online - $71.00
Individual Print or Online - $50.00
Individual Single Issue - $17.00
Outside US add Shipping & Handling - $40.00
IBZ
MLA International Bibliography
SCOPUS