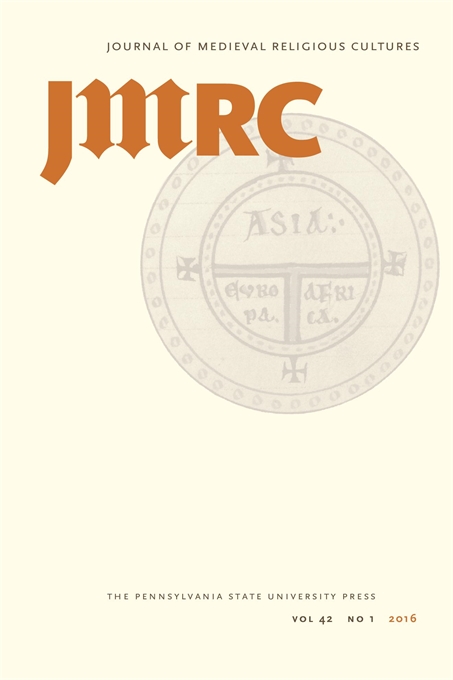 Journal of Medieval Religious Cultures
Jessica Barr, Editor
Barbara Zimbalist, Editor
SUBSCRIBE / RENEW
Journal of Medieval Religious Cultures
Jessica Barr, Editor
Barbara Zimbalist, Editor
Description

Board

Submissions

Pricing

Indexing
The Journal of Medieval Religious Cultures has been in continuous publication for over forty years. The journal chiefly publishes peer-reviewed essays on mystical and devotional texts, especially but not exclusively of the Western Middle Ages. In its current form, the journal seeks to expand its areas of focus to include the relationship of medieval religious cultures outside Europe. The journal also publishes book reviews and disseminates information of interest to all those who by profession, vocation, or inclination are interested in mysticism and the Middle Ages.
Editors
Jessica Barr, University of Massachusetts Amherst
Barbara Zimbalist, University of Texas, El Paso
Book Review Editor
Laura Saetveit Miles, University of Bergen
Editorial Board
Vincent Gillespie, Oxford University
Fiona Griffiths, Stanford University
Chaim Hames, Ben Gurion University
Benjamin Liu, University California Riverside
Sara S. Poor, Princeton University
Dale Shuger, Tulane University
Debra Stoudt, Virginia Polytechnic Institute and State University
Kenneth Stow, University of Haifa
Nicholas Watson, Harvard University
The Journal of Medieval Religious Cultures (JMRC) invites submissions of clearly-written articles (ca. 7,500–10,000 words) on any aspect of the major religious traditions of the Middle Ages (Christianity, Islam, or Judaism) as well as local or minority traditions. Interdisciplinary work is particularly welcome. JMRC is a continuation of Mystics Quarterly, published since 1984, itself a continuation of the 14th Century English Mystics Newsletter, founded in 1974. Given its historical interests, JMRC will continue to publish scholarship on all aspects of medieval English and continental mysticism.
Besides articles, we are also seeking editions of shorter religious texts as well as review articles that consider clusters of recently-published studies on a particular theme. Please submit essays in MS Word format, conforming to the Chicago Manual of Style, via http://www.editorialmanager.com/jmrc. All submissions must be in English and should include a 50–100 word abstract. Please give translations for all quotations in languages other than English (including Old English and difficult Middle English passages). As submissions will be sent out for blind review, please include a separate title page and remove your name and affiliation from the first page of the manuscript proper as well as from subsequent headers and footers. For other aspects of our house style, please consult our online submission guidelines.
Direct enquires to the editorial office:
Books for review: Publishers, please enquire about directing review copies to our book review editor: Laura Saetveit Miles,
Institutional Print & Online - $288.00
Institutional Print or Online - $204.00
Institutional Single Issue - $108.00
Individual Print & Online - $75.00
Individual Print or Online - $54.00
Individual Single Issue - $34.00
Outside US add Shipping & Handling - $12.00
ATLA
Emerging Sources Citation Index
European Reference Index for the Humanities and Social Sciences (ERIH PLUS)
IBZ
MLA International Bibliography
SCOPUS