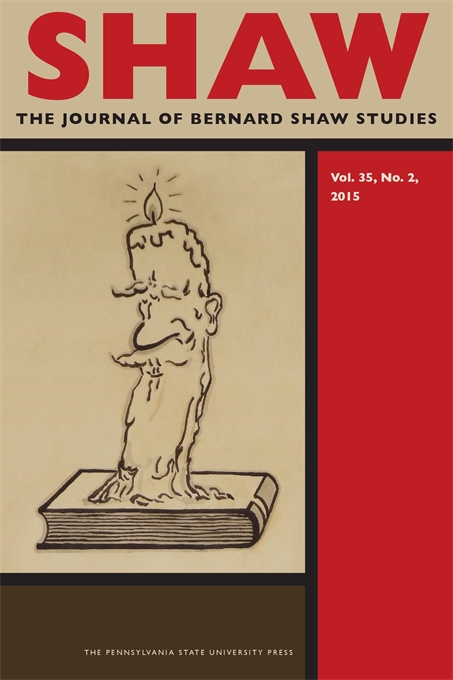 SHAW
The Journal of Bernard Shaw Studies
Christopher Wixson, Editor
SUBSCRIBE / RENEW
SHAW
The Journal of Bernard Shaw Studies
Christopher Wixson, Editor
Description

Board

Submissions

Pricing

Indexing
The author of more than sixty plays, George Bernard Shaw remains one of the best-known and most prolific Irish playwrights of the twentieth century. Known for his ability to blend social issues into his dramas, Shaw won both a Nobel Prize for Literature and an Oscar (for Pygmalion).
SHAW: The Journal of Bernard Shaw Studies is the official publication of the International Shaw Society, which seeks to "provide a means for those interested in the life, times, works, and career of Irish playwright George Bernard Shaw and his circle to organize their activities and interests, exchange information and ideas, and promote an interest in Shaw worldwide."
Editor
Christopher Wixson, Eastern Illinois University
Associate Editor
Brigitte Bogar, York University
Bibliographer
Gustavo A. Rodríguez Martín, Universidad de Extremadura
Editorial Board
Jennifer Buckley, University of Iowa
Leonard Conolly, Trent University
Richard F. Dietrich, University of South Florida
Ellen Dolgin, Dominican College
Bernard Dukore, Virginia Tech
Peter Gahan, Film Editor, Los Angeles
Bob A. Gaines, Auburn University at Montgomery
Anthony Matthews Gibbs, Macquarie University
Nicholas Grene, Trinity College, Dublin
Dorothy A. Hadfield, University of Waterloo
Brad Kent, Université Laval
Lagretta Tallent Lenker, University of South Florida
Audrey McNamara, University College, Dublin
Michael O'Hara, Ball State University
Sally Peters, Wesleyan University
John R. Pfeiffer, Central Michigan University
Michel W. Pharand, Queen's University
Jean Reynolds, Polk State College
Nelson O'Ceallaigh Ritschel, Massachusetts Maritime Academy
E. Ann Saddlemyer, University of Toronto
Julie Sparks, San Jose State University
Tony Stafford, University of Texas, El Paso
Lawrence Switzky, University of Toronto
Alfred Turco, Wesleyan University
J. P. Wearing, University of Arizona
To submit an article to SHAW, please visit http://www.editorialmanager.com/shaw and create an author profile. The online system will guide you through the steps to upload your article for submission to the editorial office.
SHAW is currently accepting submissions for the following issues:
SHAW 41.1 (June 2021): BERNARD SHAW, JOURNALIST
Bernard Shaw was possibly the most famous journalist in the world in his own time as well as its highest paid. His writing career began (1875) and ended (1950) with journalism, with his music and drama criticism as well as his contentious political commentary unparalleled among contemporaries. He wrote on every conceivable topic for print outlets of every possible variety: daily newspapers, weekly periodicals, special supplements, small journals, and organization newsletters. His journalism was pervasive throughout the English-speaking world, Britain and its Empire, Ireland, and America, while his network of translators made it available throughout Europe and even Latin America. But although he proclaimed journalism the highest form of literature, his satirical portraits of journalists and critics in such plays as The Philanderer, The Doctor's Dilemma, and Fanny's First Play illustrate the depths to which journalism can descend, with many points in between. Inquiries and proposals for SHAW 41.1 should be directed to guest-editors Peter Gahan and Nelson O'Ceallaigh Ritschel at and .
SHAW 42.1 (June 2022): SHAW AND TRANSLATION
In relation to the writings of Bernard Shaw, the practice of translation is complex because, perhaps above all else, he was a masterful craftsman of the English language. His brilliant use of language, which often borders on the metalinguistic, reveals itself as a major challenge for translators. We may even ask ourselves if Shaw's plays can be translated at all and trace the role of translation in the shaping of Shaw's reception abroad. Thus far, translation studies among Shaw scholars have focused for the most part on the people—at least far more so than on the texts. The epistolary exchanges with his translators as well as the bibliographical record of his works in translation are well documented. Studies that delve into the practical questions involved in the process of translating Shaw's works are, in contrast, scarce. As a consequence, translation remains a fertile ground for discussion and research in Shaw scholarship and forms the focus of this issue of SHAW. Inquiries and proposals for SHAW 42.1 should be directed to guest editor Miguel Cisneros Perales at.
SHAW 41.2 (December 2021) and SHAW 42.2 (December 2022) will include articles on general topics. For inquiries about those issues or other information about SHAW, contact Christopher Wixson at .
Institutional Print & Online - $244.00
Institutional Print or Online - $172.00
Institutional Single Issue - $91.00
Individual Print & Online - $106.00
Individual Print or Online - $75.00
Individual Single Issue - $43.00
Outside US add Shipping & Handling - $21.00
Arts & Humanities Citation Index
IBZ
MLA International Bibliography
SCOPUS