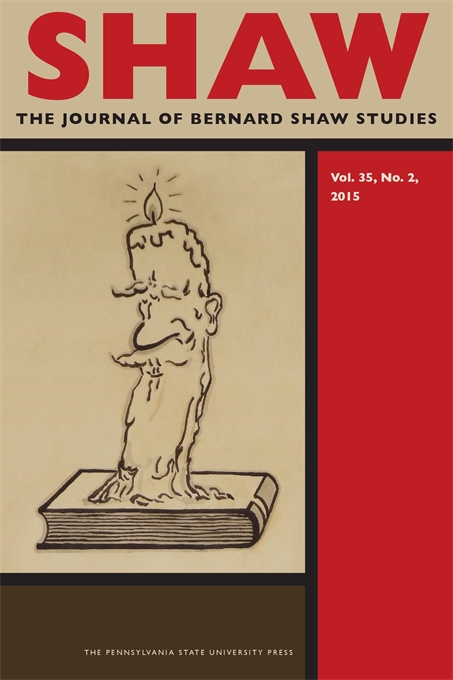 SHAW
The Journal of Bernard Shaw Studies
Christopher Wixson, Editor
SUBSCRIBE / RENEW
SHAW
The Journal of Bernard Shaw Studies
Christopher Wixson, Editor
Description

Board

Submissions

Pricing

Indexing
The author of more than sixty plays, George Bernard Shaw remains one of the best-known and most prolific Irish playwrights of the twentieth century. Known for his ability to blend social issues into his dramas, Shaw won both a Nobel Prize for Literature and an Oscar (for Pygmalion).
SHAW: The Journal of Bernard Shaw Studies is the official publication of the International Shaw Society, which seeks to "provide a means for those interested in the life, times, works, and career of Irish playwright George Bernard Shaw and his circle to organize their activities and interests, exchange information and ideas, and promote an interest in Shaw worldwide."
Editor
Christopher Wixson, Eastern Illinois University
Associate Editor
Brigitte Bogar, York University
Bibliographer
Gustavo A. Rodríguez Martín, Universidad de Extremadura
Editorial Board
Jennifer Buckley, University of Iowa
Leonard Conolly, Trent University
Richard F. Dietrich, University of South Florida
Ellen Dolgin, Dominican College
Bernard Dukore, Virginia Tech
Peter Gahan, Film Editor, Los Angeles
Bob A. Gaines, Auburn University at Montgomery
Anthony Matthews Gibbs, Macquarie University
Nicholas Grene, Trinity College, Dublin
Dorothy A. Hadfield, University of Waterloo
Brad Kent, Université Laval
Lagretta Tallent Lenker, University of South Florida
Audrey McNamara, University College, Dublin
Michael O'Hara, Ball State University
Sally Peters, Wesleyan University
John R. Pfeiffer, Central Michigan University
Michel W. Pharand, Queen's University
Jean Reynolds, Polk State College
Nelson O'Ceallaigh Ritschel, Massachusetts Maritime Academy
E. Ann Saddlemyer, University of Toronto
Julie Sparks, San Jose State University
Tony Stafford, University of Texas, El Paso
Lawrence Switzky, University of Toronto
J. P. Wearing, University of Arizona
To submit an article to SHAW, please visit http://www.editorialmanager.com/shaw and create an author profile. The online system will guide you through the steps to upload your article for submission to the editorial office.
SHAW is currently accepting submissions for the following issues:
SHAW 42.2 (December 2022) and SHAW 43.2 (December 2023) will include articles on general topics. For inquiries about those issues or other information about SHAW, contact Christopher Wixson at .
SHAW 43.1 (June 2023): SHAW AND ADAPTATION
Shaw is perhaps one of the most widely produced modern dramatists even seventy years after his death. He was always committed to the profuse dissemination of his work, and his success is due not simply to the power of his words but also to the adaptation of his works for other media and genres, especially film and music. Shaw eagerly pursued cinematic adaptations of his plays with director Gabriel Pascal as compelling opportunities for promoting his ideas more widely. However, despite the popularity of musical theater and the operatic subtext in many of his plays, Shaw consistently rejected and discouraged musical adaptations, concerned it would distract, undermine, and water down his message. Nonetheless, for many, their first encounter with GBS has been via that most famous of adaptations: My Fair Lady (1956). SHAW 43.1 is dedicated to the topic of "Shaw and Adaptation." Articles focusing on specific plays by Shaw and their flexibility - or lack thereof - to adaptation across genres and media, as well as on Shaw's own theories and practice of adaptation, are encouraged. In addition, submissions are welcomed that focus upon the ways in which his plays are being newly adapted for the 21st century stage. Essays 20-25 pages in length are due 1 May 2022. For matters of style, please refer to recent SHAW volumes and the attached guidelines. Please direct inquiries to guest editor Dr. Brigitte Bogar at .
SHAW 44.1 (June 2024): VICTORIAN SHAW
The Victorian era, usually defined as the period between 1837 and 1901, has been variously characterized as a time of breakneck scientific progress and rigid tradition, of widening democracy and insular hierarchy, of imperial expansion and the cult of domesticity. Bernard Shaw's relationship with the era has been similarly argued over. Born twenty years into Queen Victoria's reign and remaining active and prolific nearly half a century beyond its end, he has been described both as a product of Victorianism and as a rebel against it, an irrepressible herald of the Modern period. Howard Mumford Jones, a few years after Shaw's death, called him an exemplar of "the energy, the fecundity, the curiosity of the great Victorians"; yet Stanley Kauffmann, a few decades later, would declare of Shaw's nineteenth-century contemporaries that "their energy seems concentric, whirling in a closed circle around their lives and era," while with Shaw, "the energy seems to whirl forward, to burst continually into a succession of futures." Taking these varying judgments as a point of departure, SHAW 44.1 will focus on the theme of "Victorian Shaw." This special issue welcomes articles that analyze Shaw's connections or responses to particular people, events, texts, artistic works, or movements of the Victorian period, as well as articles that more broadly assess Shaw's role in the field of Victorian Studies. Please submit essays by 1 May 2023. Inquiries and proposals should be directed to guest editor Mary Christian at .
SHAW 45.1 (June 2025): SHAW AND THE NEW MODERNIST STUDIES
In the now well-established terrain of the "new modernist studies," we have become accustomed to revisionist and expansionist projects that open the field both theoretically and empirically to challenge earlier assumptions regarding the teleology of Modernism's inner integrity, established practitioners, aesthetic practices, period boundaries, and principal geographical and social locations. Moreover, the study of modernism's multiple and shifting locations beyond a traditional European-American axis is part of an ongoing process of revisionism that takes its cue from an analysis of the uneven experience of modernity viewed in both globalizing and transnational terms. The aim of SHAW 45.1 (June 2025) is to take the measure of Shaw's place in relation to contested notions of literary modernism as the substantial expansion of its temporal and geographical scope reforms our understanding of the limits and limitations of Modernism, including its very meaning. Dismissed at times by peers and critics alike as a belated Victorian whose "drama of ideas" lingers on the borders of formal experimentation and style, a more nuanced account of Shaw's voluminous writings—the plays, novels, prefaces, postscripts, proposals, reviews, pamphlets, broadsides, tracts, editorials, treatises, manifestoes, reports, and letters (private and public)—confirm his multifaceted importance as a modernist author whose work constitutes a series of unfolding relations with society and culture in both national and transnational settings. Inquiries and manuscript submissions are welcomed and should be sent to guest editor Dr. Desmond Harding at either hardi1d@cmich.edu or Department of English Language and Literature, Central Michigan University, Anspach 301F, Mount Pleasant, MI 48859.
Institutional Print & Online - $256.00
Institutional Print or Online - $181.00
Institutional Single Issue - $96.00
Individual Print & Online - $106.00
Individual Print or Online - $75.00
Individual Single Issue - $43.00
Outside US add Shipping & Handling - $12.00
Arts & Humanities Citation Index
European Reference Index for the Humanities and Social Sciences (ERIH PLUS)
IBZ
MLA International Bibliography
SCOPUS