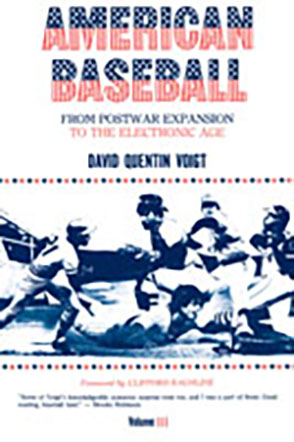 American Baseball. Vol. 3
From Postwar Expansion to the Electronic Age
David Quentin Voigt
Buy
American Baseball. Vol. 3
From Postwar Expansion to the Electronic Age
David Quentin Voigt
"One of the most in-depth, informative, and interesting books that I have read. Everything that Voigt touches upon is a point I can relate to because I was not only a player during the fifties, sixties, and seventies but a young boy having a dream in the forties. . . . Great reading, baseball fans!"
Description

Reviews

Bio

Subjects
The National Pastime has made big news and big money since its Silver Age (1900–1920), but what old-timer would have dreamed of TV networks bidding tens of millions for camera time, of baseballers getting paid like movie stars, or of all concerned—players, managers, owners, even umpires—having their lives exposed in intimate detail by keyhole journalists? So far the great American game has survived media hype, as this book shows, with the same vitality that brought it through the doldrums of World Wars I and II and the Great Depression and that withstood the shocks of racial integration and union organization. Voigt's overview of American baseball at mid-century shows both major and minor league attendance reaching peaks in 1950, then declining under competition from pro football, basketball, and hockey. Although the minors have steadily lost ground, the majors have held on to profitable turf thanks to westward expansion, night games, TV franchises, and new sources of talent. Black players numbered 100 by 1960 after Jackie Robinson broke the color barrier in 1947, while Hispanic baseballers from the Caribbean and Central America became almost as numerous. About half the big leaguers now hail from university and college teams, and platoons of scouts spot the best talent in high schools and on sandlots. Many of the post-World War II players have become baseball stars, and many have become media superstars.
New owners took charge in the expansion era, men described by the author as "individualistic, competitive, and mercenary—qualities sometimes gentled by altruism." Walter O'Malley of the Dodgers is presented as a representative expansionist, a "throwback to the robber barons," a glory-seeker intent on erasing Branch Rickey's fame, and yet a modern Barnum devoted to giving fans their money's worth. A showdown between owners of this stripe and the players' hard-bargaining Marvin Miller seemed a no-win game for the fans.
Yet, as America enters the 1980s, this book reports, its "vast enthusiasm for major league baseball remains awesome." Despite the modern world's threats to the stability of the National Pastime, the diamond's mythic power justifies cautious optimism.
"One of the most in-depth, informative, and interesting books that I have read. Everything that Voigt touches upon is a point I can relate to because I was not only a player during the fifties, sixties, and seventies but a young boy having a dream in the forties. . . . Great reading, baseball fans!"
David Quentin Voigt has written five books on baseball history, plus America's Leisure Revolution on the sociology of leisure and sport. After earning an M.A. in American History at Columbia and a Ph.D. in Social Science at Syracuse, Dr. Voigt returned to his hometown of Reading, PA, as Professor of Sociology and Anthropology at Albright College.